Spinach and Eggy Apps For You (and Your Little Dog, Too) Still searching for the perfect New Year's Eve party appetizer? The latest pet-friendly recipe from the December/January issue of Everyday Day With Rachael Ray is a Gus-tini, a crostini named for a dog pal, Gus. There's some variation to the recipe depending on whether or not you're feeding people, or treating a pooch to a small bit. Find both when you
.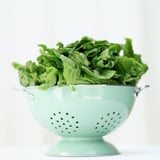 Ingredients
2 teaspoons extra virgin olive oil (EVOO)
2 cloves garlic, finely chopped (for people portions only)
Half of a 10-ounce box frozen chopped spinach, thawed and squeezed dry
1 large egg
1 pinch ground nutmeg
1 to 2 slices wheat bread, toasted and cut into triangles
Salt and pepper (for people portions only)
Directions
In a medium nonstick skillet, heat the EVOO over medium heat. For people portions, add the garlic and cook until fragrant, 30 seconds. Add the spinach and cook until heated through. Add the egg and stir to scramble, 1 to 2 minutes. Remove from the heat and stir in the nutmeg. Top the toast with the spinach-egg mixture. Season people portions with salt and pepper.
Information
Category

Pet Treats, Dog Food