Spring Cleaning Homes With Pets
Spring Cleaning: Refreshing a Pet-Friendly Home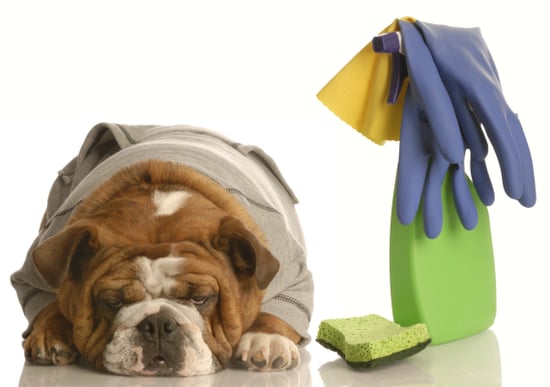 Thanks to cold weather and short days, it's easy to get complacent about house cleaning during those long Winter months. But now that Spring has sprung, I'm feeling recharged and ready to tackle the tasks I've largely ignored since Fall's warmer days! I won't place full blame on my pup, but for such a small member of the household, she sure contributes a lot of the mess: muddy footprints, fur everywhere, slobbery toys, and errant treat crumbs are just a few of her transgressions. So I've compiled my to-do list of must-hit spots in my Spring cleaning purge. Keep reading for my Spring tasks!
Toys. Plush toys and tennis balls go into the washing machine with a pet-safe detergent. That same detergent works great for rubber toys which I'll soak in the sink and then scrub with a stiff brush before rinsing. I'll pop her favorite rope toy into the microwave for about a minute to kill germies lurking among all those fibers.
Carpets. A thorough once over with my Dyson Animal vacuum should suck up as much dirt, fur, dander, and crumbs as possible. Any remnant stains get a spot treatment with Nature's Miracle before a DIY carpet deodorizing to whisk away any stale Winter smells!
Hard floors. Our hardwood and tile floors attract plenty of dust and fur, so they will get a vacuuming and a Swiffering to get rid of loose particles. And when my pooch is lucky enough to get a juicy pig ear or piece of duck jerky, she enjoys it in several key spots around the house . . . in all its slobbery glory. For an extra cleansing kick, I'll dilute 1/2 cup distilled white vinegar in a gallon of water and mop away! Just be sure to run a clean, dry cloth or mop over the wet surfaces to soak up excess (and prevent slipping!).
Beds. My pup has a few beds around the house (you never know when you'll need a nap), and we always make sure to buy the machine washable kind. Into the machine it goes with the same pet-friendly laundry detergent, and that bed is just like new!
Bowls and feeding mats. My pup is no lady when it comes to eating, and despite her advanced age, she gets food everywhere! Fortunately, I found a wide mat that can accommodate her food and water bowls, so it will get a trip to the sink with a good cleansing from the do-it-all detergent. Her bowls go into the dishwasher along with our dirty dishes.
Upholstered furniture. The weather is getting warmer which means that my pooch's fur is like a fourth roommate that's nearly impossible to evict! I'm serving it a notice by kicking it out of beds, off the couches, and out of my favorite easy chair. An old pair of pantyhose should do the trick.
What Spring cleaning tasks are you performing in your pet-friendly home?