Tennis Balls For Dogs and Cats
Love All and Have a Tennis Ball!
To celebrate the ongoing US Open, I'm rounding up the first round thing to come to mind . . . tennis balls, obviously.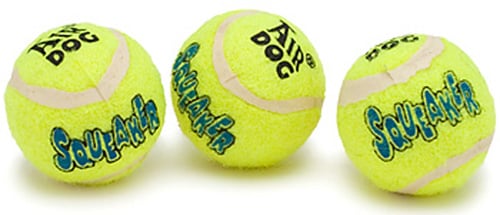 While I already shared a pricey bed, most of you opted to pass for that tennis creation but still want to let pets have a ball! North loves the extra small Air Kong versions 'cause they're super squeaky and fit him perfectly. (He usually tears all the fabric off a normal doggy tennis ball to use the frays to fetch 'em since they don't fit in his mouth.) Since he's pretty darn destructive, I'm shocked how long it takes him to kill the squeakers in this version — they sometimes last a couple of months, which is an eternity in his chompers.
I've gathered up some extraordinary tennis balls for doggies and kitties so check 'em out in the widget below.