Thanksgiving Leftover Treats For Your Dog
Treat Your Pooch to Thanksgiving Leftovers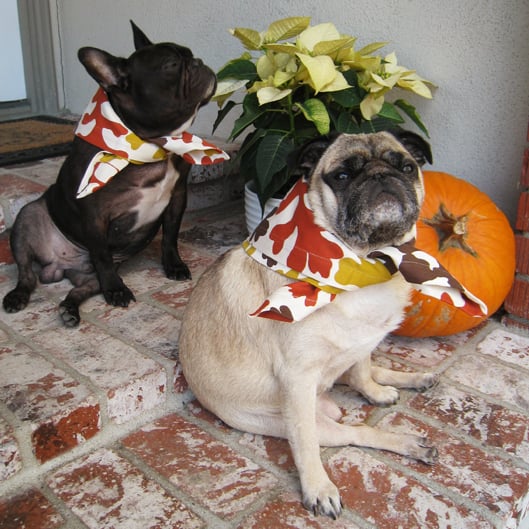 Along with tossing together a turkey sandwich with leftovers from your Thanksgiving feast, treat your pup to tasty eats too. Most of the food from the Turkey Day table is healthy and safe for your dog. Stay away from sage or dishes loaded with onions and garlic, and you've actually got the beginnings for several tasty leftover treats.
A square meal: Make a plate with all the fixings for your four-legged friend. Chopped turkey without bones, stuffing, and mashed sweet potatoes are safe for your dog to eat. And if your pup enjoys the tart flavor of cranberries, toss a spoonful in the doggy dish, too.
Doggie gobblers: You can also use leftover turkey to mix together treats, which are perfect as a meal or snack. Combine six ounces of cooked and chopped turkey with one cup mashed potatoes, one cup cooked carrots, two cups oats, and one large egg and blend until smooth. Lightly grease a muffin tin, spoon the mixture into cups, and bake for 40 to 45 minutes in a 350°F oven.
Keep reading for more leftover Thanksgiving treats for your dog.
Turkey and cranberry dog treats: Tart and healthy, these dog treats use fresh cranberries. Blend together three and 1/2 cups whole wheat flour, one tablespoon baking powder, and one cup cooked and cubed turkey, until smooth. Then blend with one tablespoon olive oil and one cup fresh cranberries, thinning with water as needed. Roll and cut with a bone-shaped cookie cutter. Place on a lightly greased sheet tray and bake for 25 minutes in a 350°F oven.
Leftover hash: Transform leftovers into a heavenly hash for your pup by stir-frying 1/2-cup chopped cooked turkey, two tablespoons cranberry sauce, and one cup cooked and cubed sweet potato with one slice bread.