This Chow Chow looks ready to chow down or, at the very least, enjoys accompanying an owner for a coffee and snack at a sidewalk café. It's the perfect way to get some yums, and for a dog to enjoy the fresh air.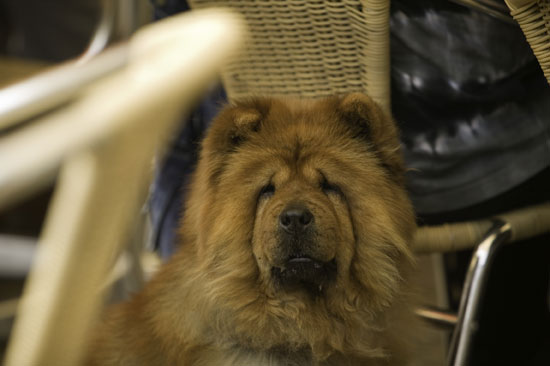 A couple tips to keep in mind when heading out:
Before You Leave: Although many pet-friendly establishments offer to-go dishes for a pet's water, it can't hurt to bring along your own portable bowls. Also, make sure I've got a non-Flexi leash and a bag (if your pet's small) to be able to secure him. I like to loop the leash around the leg of my chair 'cause I know my weight will keep him down. Remember to pack some to-go treats to prevent the temptation to give your dog any inappropriate human food.
Before You Enter: Check with a hostess or server before you sit down! Just because it's outside, doesn't mean it's automatically OK. Be mindful of other diners — if it's a crowded patio, it may be better to go elsewhere.
Time to be seated! Learn what to do to help ensure a pleasant meal when you
.
Before You Sit: Check the ground surrounding the table for any food or liquid droppings, any purses or shopping bags lying nearby, or anything else that could attract or tangle your furry friend. If it's a warm day, make sure there's some shade nearby for your pooch (even under the table) and that his leash is restricted short enough that he can't reach and pester other customers or get stepped on by pedestrians out front.
Before You Go Home: Clean up after yourself! If you've been given a bowl of water, pick it up off the ground. Look around the table to make sure your pet didn't go potty while you weren't looking, and be certain to thank the server as you leave!