The ToyBlocker Is a Genius Invention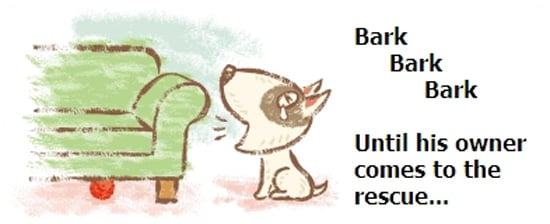 I know I'm not the only dog owner roused from a deep sleep from a barking pooch. Well, North, actually prefers a vigorous scratch, scratch, scratch at the floor followed by whimpers and cries that increase in frequency and volume . . . before the all out barking. No matter where I place his toy he repeatedly manages to nudge it under the ottomans. He can slither under to get most toys that fit in his mouth and then wriggle back out backwards but, for his absolute favorite Orbee-Tuff football, he can't manage to grab ahold of it and make his way out again.
That's where this invention comes in. The ToyBlocker is an inflatable wedge that can slip under couches, chairs, or beds and be pushed away from view. The toy can hit it and stay within paws' reach or bounce back out, and you're freed to go about your day or night while pup plays. It comes as individual pieces or sofa sets for $4 and up, but the value of your saved sleep? That's priceless!