Travel Water Bowls For Dogs
TO GO Travel Bowl: Spoiled Sweet or Spoiled Rotten?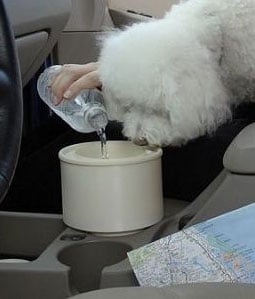 Sure, North and I love to travel. And, yes, my pooch can get mighty dehydrated with all his excitement to be walking around meeting new people. I usually have a portable dish or water bottle with a sports top to treat my thirsty pooch but the one place I don't offer such drinks is inside my car. It's not that I am concerned my dog will have an accident or I'm that worried about my car's interior, it just never occurred to me before.
The TO GO Travel Bowl ($23) fits into a standard car cup holder and can feed him or offer water on the go. Do you think it's worth it or too excessive for your tastes?