Weight Loss For Dogs
Has Fido Fattened Up? Services to Help Your Dog Drop Pounds
Dog, plus too much food, plus not enough exercise, equals one flabby little Fido. Although a roly-poly pooch might look cute, obesity poses the same health risks for your pet as it does for you. Diet and exercise are key, but if you're having trouble slimming down Sparky, here are some services that can help.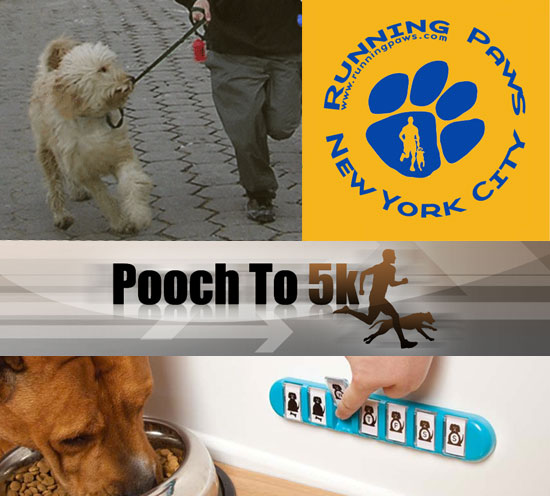 Pooch to 5K
Yes, you read correctly. Just like the Couch to 5K for humans, there's a Pooch to 5K for dogs, a service that offers personal training for the furry loves of your life. Over 40 percent of dogs are overweight, which can lead to joint pain and heart disease, so there's no time like now to get your four-legged friend in tip-top shape. The free Pooch to 5K 12-week training program will help your dog go from lounging around to comfortably running a 5K. What's even better is that you're the one running with your dog three times a week, not the dog trainer, so you too will get in excellent shape. Two paws up!
Keep reading to hear the other ways you can help your beefy Boomer lose weight.
Running Paws
You've heard of dog walkers — well, these are dog runners. Running Paws pairs one of its endurance athletes to take your dog for daily fitness sessions. Depending on your dog's needs, services include brisk walks for puppies or older dogs, runs for the young and energetic breeds, or Rollerblading for the superactive pooch. Daily 30-minute workouts cost $115 per week. This service is based out of NYC, but I'm sure you can find one in your area. Getting paid to run? Sign me up for that job.
Membo
You come home from work, feed your dog, and just as Spot finishes the last piece of kibble, your hubby says he's already fed him. Oops. A few extra calories here and there really add up, especially if your dog is consuming more than his scheduled daily meals. Membo is a cute device that helps you remember to feed your dog, so if you share the job with another family member, your dog won't accidentally get fed twice, leading to unhealthy weight gain. It might also encourage you to refrain from showering your dog with extra treats and the leftover crusts from your sandwich.