What Is Bloat?
Bloat — It's Not Another Way to Call a Pup Overweight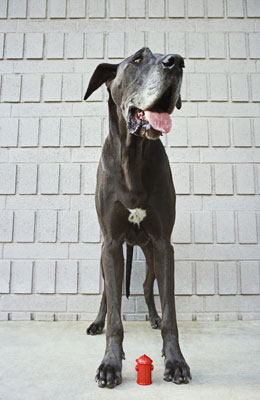 Although I'd bet most of us have occasions where we feel bloated, this term has nothing to do with a chubby pet! The medical ailment bloat is fairly common and, just like reverse sneezes (aka, pharyngeal gag reflexes), it has a serious scientific name, too.
Gastric dilation occurs when a deep-chested dog has a full tum (of food, water, or gas) and then engages in vigorous activity or exercise. As more air and saliva enters the stomach, it swells larger and larger. Eventually, this can block the return of blood to the heart from the abdomen and rear limbs and pups go into shock. Furthermore, dogs including the Great Dane have a stomach that isn't attached to the ribcage, so when it's heavy and full (the "before"), it can flip around and block the intestinal track (the "after") called gastric torsion.
As the tum continues to expand, the increased amount of digestive enzymes inside become toxic resulting in shock, cardiac arrest or stomach rupture. What other breeds are commonly bothered and how can you prevent this? Find out when you
.
Help combat bloat before it happens:
Feed multiple, smaller meals throughout the day instead of one large meal.
Make sure pets rest for 45 minutes to one hour after eating before any vigorous exercise.
If you notice your pup gulps food or water, consider a "slowing bowl" like the Drink Better or DogPause.
This typically affects the Akita, Great Dane, German Shepherd, Saint Bernard, Irish Wolfhound, Irish Setter, Doberman Pinscher, Weimaraner, Standard Poodle, Basset Hound, and other large mixed breed dogs.
Source: Animal Planet and Source: Thinkstock