What Kind of Dog Was Queenie in Water For Elephants?
Robert Pattinson and Queenie Make a Run For It!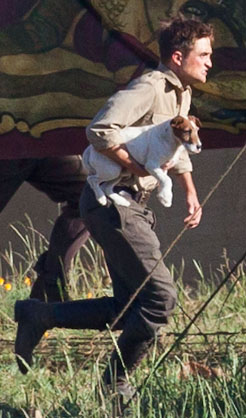 Even though it's been a few years since I read Water For Elephants, I'm so happy I checked it out before it was adapted for the big screen so that I could create my own mental pictures of the characters and the animals!
Now I don't remember the vet-student-turned-circus-employee having a sidekick explicitly labeled as a Jack Russell in the book, but I do recall a scene where lil Queenie climbed up on Jacob's lap, so the size of this pup looks perfect!
Speaking of size, we already checked out one of Robert Pattinson's bigger — 8,800-pound — costars and, since a large part of this story takes place in the circus, I'm sure there are even more animals to be spotted later on along with Queenie the dog and Rosie the elephant. Check out more pictures of Rob and his furry pal in the gallery below.