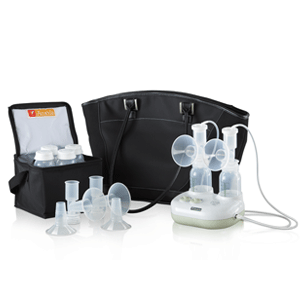 When it comes time to breastfeed there are all sorts of decisions to make. The new, improved Ameda Purely Yours Ultra offers all mothers — including moms working outside the home — the flexibility, styling, and convenience they need and expect from their breast pump.
Featuring adjustable pump cycles and suction that allow you to personalize settings for the most comfort and best milk flow, the Ameda Purely Yours Ultra offers three flange sizes to meet your body's changing needs.
What truly sets Ameda apart is its HygieniKit Milk Collection System included with every Purely Yours Breast Pump. It features a diaphragm that acts as a solid barrier between mother's milk and pump tubing. This means that the pump and kit tubing don't come into contact with mother's milk, protecting it from any potential contaminants that may be present in the pump or tubing while pumping, and providing the convenience of tubing that never requires cleaning!
Whether you're a future or current breastfeeding mother, or a mother who has nursed in the past, we'd love to know how you knew breastfeeding was right for you and your baby. Please take our poll below!