What Are the Weirdest Dog Names and What Are the Weirdest Cat Names?
So Many Silly Pet Names, so Little Time!
Looking for some name inspiration? Well, if you're not feeling so creative yourself, check out the craziest names for cats and dogs when you play these faceoffs.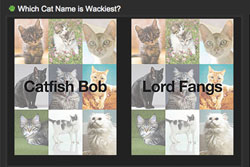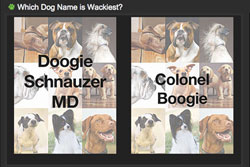 Need I mention, every time you play you're eligible to win big? We'll be giving away a $500 grand prize every month — you must be logged in, and you'll be entered once each time you play. (Check out the official rules here.) What are you waiting for? While there's no guarantee that you'll win, I'm betting at least one of these names will make you crack a smile. Get started now!