Why Does My Dog Snore?
Pet Peeves: Why Does My Dog Snore?
I know I'm not the only one whose home includes a four-legged snorer — North makes noises in his sleep that friends can hear in the next room or even over the phone. There are several possible reasons for the odd sounds coming out of those wriggly noses and I've gathered a bunch below: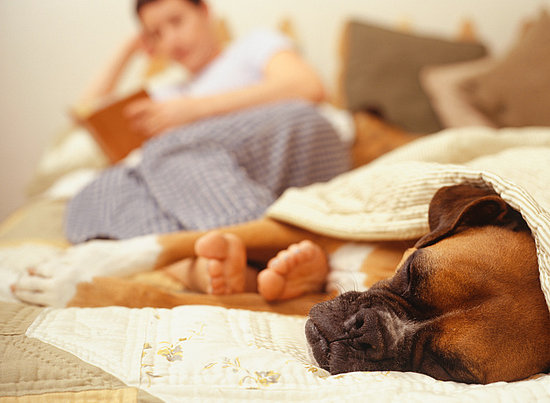 Smooshies. Breeds with smushed faces or short snouts can be predisposed to snoring problems. If you think about it, they're forced to breathe with only a fraction of their actual nostrils and have to work extra hard to maximize that space. Since it's harder for them to control breathing (wheezing and snorting) when awake, the constriction of their nasal passages makes it equally hard, if not more so, when sleeping.
Loose tissue. Loose throat tissue also contributes — snoring also results from a slight obstruction that's vibrating during sleepytime breathing.
See three other reasons your pooch could be snoring (that you can do something about!) when you read more.
Overweight. Just like with humans, obese dogs may snore because they have more excess flesh around the throats. This can cause the obstruction that causes the vibration that causes the snoring sound. (Refresh your memory on some of my pet weight-management tips here.)
Allergies/illness. Snoring can be a result of a bigger, medical problem. Even dogs get allergies and other breathing issues — if snoring suddenly starts where silence was found before, it may be worth a trip to a vet's office to check that nose out.
Positioning. Some dogs only snore when sleeping on their backs, so picking up a donut-shaped bed that encourages curling up can help your pooch change his sleep method and hopefully the sounds that result, too.