Two thousand eleven award season [1] has come and gone, and what better way to wrap it up than with the glitz and glam of the Oscars [2]. Last night the ladies shined in sequins, modeled flawless hair and makeup, and paired their couture gowns with fantastic accessories. We covered the parties, the red carpet, and the show, but if you missed even a moment of the action, check out all of our Academy Awards coverage below!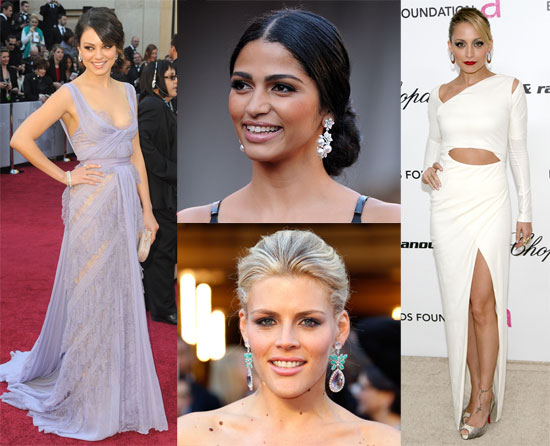 [3]
Red-carpet fashion coverage:
Vote on all of Fab's fashion red-carpet love it or hate it polls [4]
Who ruled the red carpet? Play Fab's Oscars fashion faceoff [5]!
Shopping the Oscars' red carpet trends: subtle sparklers [6]
Shopping the Oscars' red carpet trends: bold earrings [7]
Best dressed: See Mila Kunis's Elie Saab from every angle [8]
Bling report: the best of the Oscar accessories [9]
Oscar afterparties: best of the rest [10]!
Double take: Oscars' chicest red-carpet couples [11]
Red-carpet beauty coverage:
Check out all the prettiest looks from the Oscars [12]
Stylist secrets: get the insider scoop on gorgeous Oscars hairstyles [13]
Chime in: what do you think of these stars' Oscar-style changes [14]?
How to get Scarlett Johansson's caramel, gold, and rose makeup palette [15]
How to get Mila Kunis's wavy chignon [16]
How to get all 7 of Anne Hathaway's chic Oscar hairstyles [17]!
Video, polls, your favorite moments, and more:
Buzz in: what are your post-Oscar thoughts [18]?
Video: watch the full version of James Franco and Anne Hathaway taking on Grease [19]
Oscar superlatives: the best of the night [20]
Anne Hathaway [21] and James Franco [22] as Oscar hosts: nailed it or missed the mark [23]?
Oscar matrix: the night's lovely and awkward moments [24]
Guess the gadget Oscar edition: match the star with the cell phone [25]!