To-Do List Websites
Let New Site To—>Done Assign Tasks For You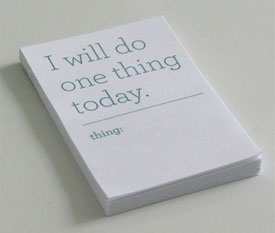 Ever have those odd little pockets of time between meetings and other tasks during your workday, when you feel like you should be doing something but can't decide what? I do, and I hate them! In the time I spend sorting though my various to-do lists trying to decide what to tackle, I know I could've been doing something far more productive.
To find out about a recent fix I've found for this problem, keep reading!
Enter new website To—>Done. The site allows you to fill in tasks and the amount of time you estimate they'll take. Then, when you're faced with a stretch of time you're not sure what to do with, just log in, tell To—>Done how much time you have, and it'll assign you an appropriate task.
Sure, it's nothing you couldn't do yourself, but there's something about the automated nature of the site and the friendly but firm prompts ("You should [insert task] now. Stop, leave this web page, and don't come back until you're finished") that actually motivate you to get things done.
What do you think? Could you see yourself using this site, or does it seem unnecessary to you?
Source: Flickr User koka_sexton