The 10 Highest-Spending Cities Are Surprising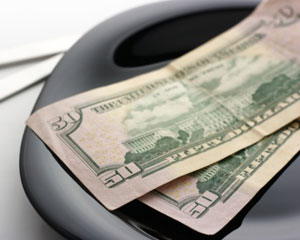 When it comes to housing expenses, it's well known that New Yorkers have a relatively heavy expense on their hands. And while we might assume this level of spending expands into other categories, a recent ranking of the highest-spending cities published by Bundle.com suggests that assumption would be incorrect.
Bundle tracked last year's non-mortgage or rent spending in the 100 largest cities, and looked at a variety of categories like dining, shopping, and travel. The spending patterns it discovered certainly weren't what I expected, geographically speaking. For example, households in Durham, NC, spent about $700 more on food and drinks last year than San Francisco residents, and the people in Raleigh, spent more on shopping than any other city on the list.
Find out which cities spent the most outside of housing expenses last year, and how much, when you
.
Average 2009 Household Spending by City


Austin, TX: $67,076. Residents spent 83 percent more on shopping than those in NYC.
Scottsdale, AZ: $64,687. Travel and leisure spending was more than double the national average.
San Jose, CA: $59,022. Residents spent more on health related expenses than any other city.
Arlington, VA: $52,085. Households spent more on travel and leisure than any other city.
Plano, TX: $56,738
Raleigh, NC: $53,398
Nashville, TN: $52,964
Tuscon, AZ: $51,857
Irvine, CA: $51,286. Orange County residents spent $4,511 more on shopping than those in NYC.
Durham, NC: $51,114.