Advice For Dealing With Questions About Cost of Engagement Ring
Ask a Savvy Bride: I Fear She'll Ask How Much My Ring Cost — Help!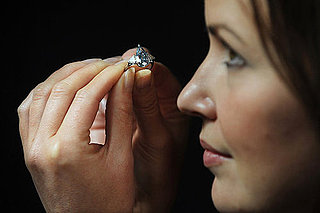 Weddings are all about love and the joining of two people and their families, but they can breed financial flak and conundrums. Your special wedding season Ask Savvy questions will be answered by SavvySugar and a very savvy bride. Submit your questions in our Ask Savvy group.
Dear Savvy,
A girlfriend of mine constantly asks me how much my personal possessions cost; everything from a new shirt I bought for myself or a birthday gift for a mutual friend. I've dealt with this rude behavior for years now so I'm used to just brushing it off, but I recently got engaged and I just know something will be said about the cost of my ring when I see her next — a situation I've been trying to avoid. As someone who was raised not to talk about money in that way, I don't know how to answer her questions, especially about a piece of jewelry that holds much more value to me than its cost. Do you have any advice as to how to deal with her? Is asking someone how much their ring costs even a normal question?
Thanks,
Modest Molly
To see what a savvy bride has to say about this, keep reading after the jump.
Savvy bride says:
I happen to be of the mindset that you don't talk about money in that way as well, but unfortunately not everyone thinks like we do. You can't avoid your friend forever — she's probably really excited to celebrate your engagement with you — but if she does in fact ask about the cost of your ring, the best way to broach the subject is to just be honest with her about your feelings around the question. Let her know exactly what you told me, that you look at your ring as something that symbolizes so much more than monetary value, and if you want to take the opportunity to politely tell her that it's an inappropriate question to ask (especially since you might not even know the answer!), now's as good a time as any — she won't know that she's doing anything "wrong" unless you tell her.
I agree. An engagement ring is a token of a man's love and commitment to his future wife so hopefully telling your friend that will deter her from pressing the cost issue any further. Good luck!
Ask anything budget-, etiquette-, or planning-related — well, almost anything — by posting your questions in the Ask Savvy group, and I'll find the right expert to help you out. If you are planning a wedding, already happily wed, or still looking for Mr. Right, start sharing your big day with our community. Don't forget to check the wedding content box on your post.