Amtrak's Acela Trains Will All Feature Free WiFi by March
Amtrak's Acela Trains Will All Feature Free WiFi by March
Although often pricier than its high-flying counterparts (since less competition equals less sales), there's something super relaxing about a train trip. Perhaps it's the ability to move freely in more space, plus added food and drink options and minus baggage fees, but I've got plenty of working pals on the East Coast who choose the Amtrak Acela line over shorter flights.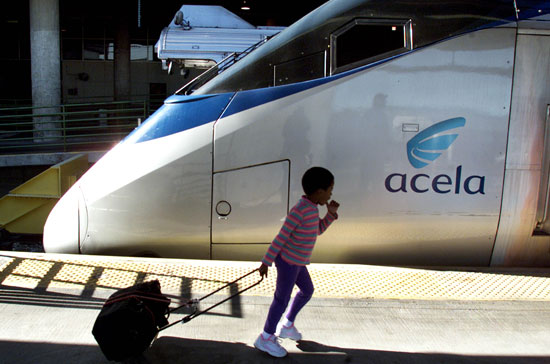 With zippy trips between NY, DC, and Boston, all of the Acela Northeast Corridor trains will be equipped with free WiFi by March. Combine prices set to compete with airlines offering cheaper Internet rates with Acela's existing at-seat electrical outlets and cars complete with conference-style tables, and this is chugging on track to a mobile office.
Even though at just under three hours, the NYC-to-DC trip will be longer than any flight, if you factor in travel time between airports and the downtown areas as well as mandatory early arrivals (even more so these days), and you end up saving time. And you know what they say? Yup, time is money.