The Anatomy of a Scam Email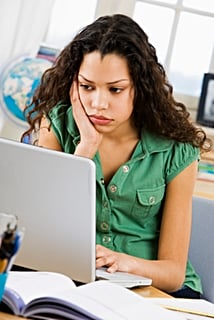 We're thrilled to present this smart LearnVest story here on Savvy!
This morning, I received an email from my first cousin telling me she was in dire straits and needed me to send her money to rescue her. Although the email was signed with her name and contained her normal email signature, it was a scam.
She confirmed this through a follow-up email a few hours later telling everyone to disregard her plea for help. So you never fall for a hacker trap like this, check out the email—and the warning signs that it's not real:
1. I Was BCCed
Immediately, be suspicious of any seemingly personal email that's not actually sent to you but rather to many people using the BCC option.
2. It Didn't Even Say My Name
After all, if she really were going to ask me for help, I'd hope that she'd at least address the email to me. You don't ask for emergency money to be wired to you in a generic email.
Read on for more clues to figuring out what a scam email looks like.
3. I'm Not the First Person She'd Ask
I love my cousin, but I'm sure that her younger cousin is not an intuitive first person to ask for help. If you're wondering why you're the one getting the email, be on alert.
4. The Language Sounds Funny
My cousin is American. She'd say "cell phone" instead of "mobile phone." Instead of "I have been involved in a robbery" she'd say, "I got mugged." And I simply can't imagine her ever using the turn of phrase: "effect a transfer."
5. What Happened to the Facts?
Granted, we don't exactly chat every day, but I didn't have any notion that she was in Madrid. Before trusting something like that at face value, it's easy enough to check a person's Facebook page to see if there were any updates or mentions of a vacation. Especially if you know that she's active on Facebook, you could almost expect to see some photo or wall post.
Even if I knew better than to fall for this, there's always the chance that older, less tech-savvy relatives might not know a scam when they see it. So, if ever you receive an email that you suspect is a hoax, do the necessary research, figure out what's going on and don't be timid about reaching out to parents and others who may have received the same email to ensure that they don't fall for it, either.
Keep Your Information Safe
Create the perfect password to protect your own email account.
Read more tips on keeping your bank account information safe.
If you don't want your information and money stolen, don't keep these things in your wallet.