April Beyer Talks About Being a Matchmaker and Relationship Coach
In Her Shoes: April Beyer, Matchmaker and Relationship Coach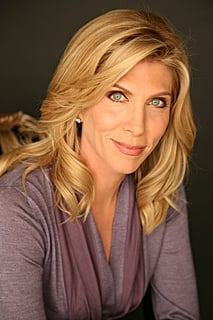 In the spirit of Valentine's Day, April Beyer, expert relationship coach and matchmaker, gives SavvySugar an insider's look into her unique career. Helping men and women find lasting relationships for almost 14 years, she is the founder and president of Beyer & Company, a matchmaking and relationship consulting firm. She's frequently interviewed and has been seen on Dr. Phil, 20/20, and Good Morning America. Beyond her weekly clients, April writes on her blog, conducts seminars, and is working on a book to help women prepare for love and romance. April tells us what it's like to assist other people on their journey to finding love and happiness.
SavvySugar: Can you tell me about your career path and how your business has grown throughout the years?
April Beyer: I started out in the high-end matchmaking industry nearly 14 years ago. I had worked with a matchmaking company and was there for about six or seven years. I was responsible for many marriages there. In 2003, I decided to venture out on my own and start a relationship coaching and consulting business. Now, I still have my matchmaking company. I work with a handful of highly successful marriage-minded men. I am also a coach and a writer.
Now my passion is to help women better understand themselves first so then they can naturally attract the man of their dreams. I am a little bit more of a holistic dating and relationship coach, but I think of myself more as is a communication and authenticity coach. For me, it's not about teaching people dating skills, it is teaching them relationship skills.
Click here to read more about April.
SavvySugar: What skills and experiences are needed to enter this matchmaking field?
April Beyer: When I see other women wanting to venture into this world, I would never recommend that anyone start a matchmaking or relationship consulting business without having a ton of experience. For me, it was six-plus years of learning about my clients, meeting with them, getting down to the he said/she said, reading every single profile, and actually having success with putting people together. That alone gave me a very good foundation to start my own business. I wouldn't have just started because I loved the idea of love.
Matchmaking and relationship consulting are actually very serious businesses, and it looks like it's really fun and glamorous to the outside world, but it is still a business. It requires a level of commitment that not a lot of people have. You have to be committed to your business and to your client's happiness and well-being. You also need deep intuition and listening skills.
SavvySugar: Can you describe the difference between the matchmaking side of your business vs. your consulting firm?
April Beyer: For the matchmaking side of what I do, I only work for men. I'm their matchmaker, but of course, along the way, I am giving them a lot of dating and relationship advice. I do help them with any aspect of their date whether it's predate, postdate, and throughout the duration of their relationship. Until two people say "I do" or "I don't," I am right there with them. I am monitoring the relationship. Then of course, if the woman wants to hire me as her coach, my job is to prepare her.
The coaching side of what I do is separate. The women who come to me maybe have nothing to do with the matchmaking side of my business. They are coming to me because they are saying, "Gee, April, I'm a successful, dynamic, modern woman and I have confidence in every other area of my life, but for some reason, this is one major part of my life that has eluded me. Can you help me?" That is probably the thing that I am probably most passionate about, because all wonderful things happen because of preparation. I don't think enough people prepare for love.
SavvySugar: What tough encounters do you face as a matchmaker and relationship coach?
April Beyer: The tough encounters are really created by the dynamic of people who are invested in this emotionally and financially. It can be a pressure cooker situation, because everybody wants love, and they want love yesterday. If I match someone or help them in a coaching dynamic, there is more than just me and the person I'm working with. There's the universe, divine timing, and the other person that I want to introduce them to. There is so much involved, and I'm a big believer in self-responsibility. You can hire a coach or a matchmaker, but you still have to come in the door as a client with a good foundation of who you are and what it is you need. If you haven't done the work when you're coming to me for matchmaking, then you should come to me for coaching, so I can prepare you for all the wonderful and amazing introductions that I can give you.
SavvySugar: You talk a lot about the importance of maintaining femininity in the workplace. Why do you believe this is important?
April Beyer: I don't believe you should hide your femininity at work. Women think that if they dress in a feminine, pretty way then they won't be taken seriously at the office. Many women think they have to hide who they are in order to get ahead. I think that's wrong. I think that's a great disservice to women everywhere. I believe you can succeed as a woman without masquerading as a man.
How I do this in my own business is I'm very warm, personable, and friendly with my clients. So if I meet a guy and I'm looking at a $50,000 contract before he can work with me, I'm not shaking his hand. I'm walking into the room and saying, "Wow, you're a lot more handsome than I thought you would be! You're lovely." I'm warm with them, and I share with them. My business has exploded since I started allowing myself to be in my feminine zone while at work.
SavvySugar: So you can be a powerful CEO and feminine at the same time?
April Beyer: A met a woman once who was running a top major-network production company. She had on this gorgeous dress and high heels, and it wasn't overtly sexy. She just looked beautiful and classic, and I said, "Oh, did you change for our meeting after work?" And she said, "No, this is the way I go to work." She has 350 employees and more than half of those are men. I asked, "Are men intimidated by you?" And she said, "Oh, no, no. I make sure that no one is intimidated by me. I make sure that I'm well-liked and well-respected. That's all I want in my office." I love the fact that she didn't shut herself down with her beauty in order to be this really powerful woman.
SavvySugar: How do you carry your femininity in the workplace?
April Beyer: I decided a long time ago that I was going to be successful in my career and I was going to do it on my terms and by being 100 percent female. It's hard, believe me. There are situations in my business that make it difficult. I get sensitive sometimes and get my feelings hurt if a client isn't happy or something has gone wrong. I was told by my brother, who is a very successful businessman, to shake it off — that if I was in business, that I needed to develop a thicker skin. I thought about it for about five minutes and determined that he was wrong. Because if I developed that thicker skin, I won't be good at matchmaking or coaching. I wouldn't be writing a book and I wouldn't be the wife that I am.