AquaFarm Fish Tank
Grow Fresh Herbs and Raise Fish at the Same Time With This Tank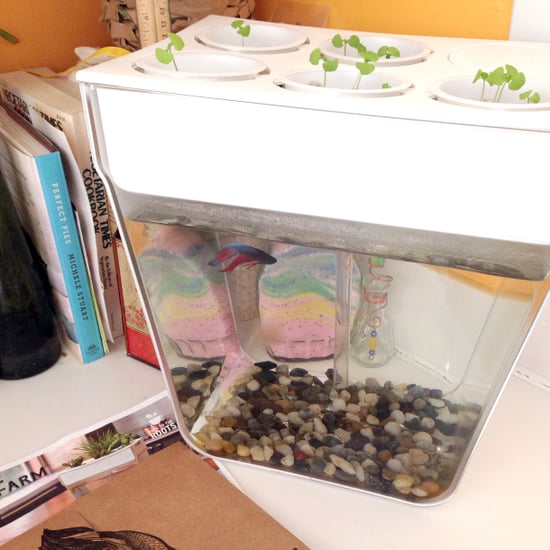 A couple of months ago, I lost my fish of over 10 years. Sure, it was just a simple goldfish, but the loss was slightly devastating. My shimmery friend had been the best kitchen helper for so long, making the first morning after having to do the big flush pretty depressing. But time heals all wounds, right? And not having to clean that smelly fish tank was also a big help. Then Back to the Roots reached out with a new and impressive system — a self-cleaning fish tank that grows fresh herbs and gourmet greens.
How It Works
They happily sent an AquaFarm for review, and I followed the simple directions for assembly. Included in the kit was a coupon for picking up a beautiful betta fish, which I did at my local Petco. Designed by two good friends, the self-contained, close-looped ecosystem also includes seeds for growing your own goodies, food for your new pet, and water treatments to create a happy home. The plants grow at the top, taking nutrients (waste) from the water, which naturally cleans the tank. I was a bit curious to see if things would really work without having to do some serious scrubbing each week.
Does It Deliver?
I tucked the tank in a sunny corner and waited to see what would happen. And after just a few days, little green buds began growing from the top of the tank. Within a few short weeks, my basil plants were shooting up, and my original betta fish was still swimming happily. And there's no gunk growing anywhere in the tank.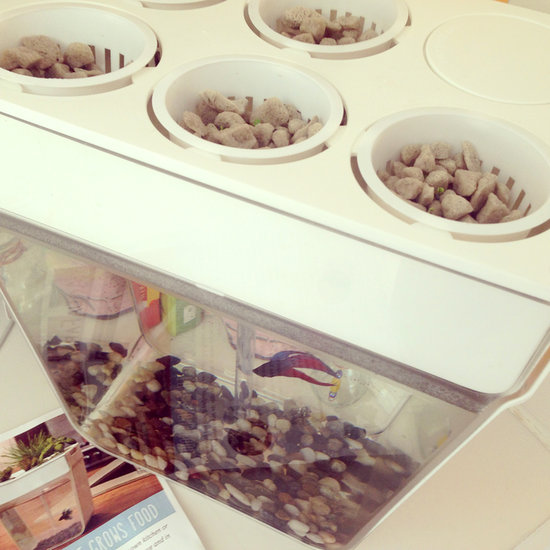 Pick up a supercute AquaFarm for around $60, and enjoy your new pet and a fresh garden — without any cleaning at all. You can grow a complete herb garden with seed options, including basil, mint, parsley, thyme, wheatgrass, and even spinach! I'm looking forward to having fresh herbs all year round and getting to know my colorful fishy friend.