Bank of America Drops Debit Card Fees
Bank of America Drops $5 Monthly Debit Card Fee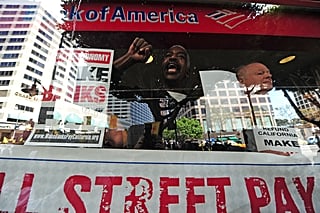 Consumers, your voices were heard! Bank of America announced today that it is dropping its plan to charge debit users $5 a month for usage. This comes after a surge of public disapproval about the fees. Thousands of customers flocked online to sign petitions — one by change.org received over 300,000 signatures. Politicians like President Obama and Vice President Joe Biden have also spoken against the fees.
David Darnell, the bank's co-chief operating officer, says, "We have listened to our customers very closely over the last few weeks and recognize their concern with our proposed debit usage fee . . . Our customers' voices are most important to us. As a result, we are not currently charging the fee and will not be moving forward with any additional plans to do so."
Two other banks, Chase and Wells Fargo, also announced last week that they decided not to charge customers debit usage fees after testing the $3-a-month fee with pilot programs in several markets.