Barack Obama's Barnard College Commencement Speech
Obama's Inspiring Advice For Female New Grads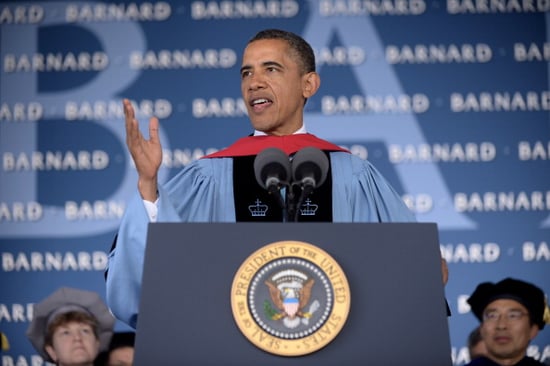 It's that time of the year again when fresh young grads cheer on commencement speakers and throw their tasseled hats up in the air. President Obama gave a riveting commencement speech on Monday to the women's university, Barnard College. It's a school affiliated with Columbia University, which is the school Obama graduated from in 1983. Here is some of his most inspiring advice for women:
Don't accept any less than you deserve: ". . . don't accept somebody else's construction of the way things ought to be. It's up to you to right wrongs. It's up to you to point out injustice. It's up to you to hold the system accountable and sometimes upend it entirely. It's up to you to stand up and to be heard, to write and to lobby, to march, to organize, to vote. Don't be content to just sit back and watch."
Persevere: "Nothing worthwhile is easy. No one of achievement has avoided failure — sometimes catastrophic failures. But they keep at it. They learn from mistakes. They don't quit."
Lead by example: "Never underestimate the power of your example . . . This diploma opens up new possibilities, so reach back, convince a young girl to earn one, too. If you earned your degree in areas where we need more women — like computer science or engineering — reach back and persuade another student to study it, too. If you're going into fields where we need more women, like construction or computer engineering, reach back, hire someone new. Be a mentor. Be a role model."