Barack Obama Fun Facts
Happy Birthday Mr. President: 8 Fun Obama Facts You Didn't Know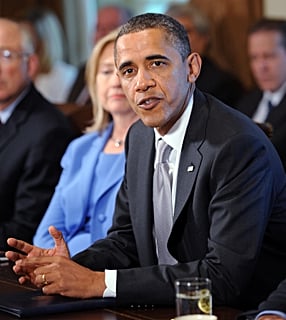 It's President Barack Obama's 50th birthday today and although it's a milestone birthday, the head of the state is holding private, low-key celebrations today in order to observe the bleak economic environment.
We've seen a promising community leader edge his way up the political ladder in the last few years, finally reaching the top to become the nation's first black president. That is an achievement in itself because as Michelle Obama told Oprah, one of the "beautiful things [the country] will get from this presidency" is that children of every color can dream bigger. To celebrate his birthday, here are a couple of fun facts you didn't know about our nation's leader:
He has read every Harry Potter book.
His name means the "one who is blessed" in Swahili.
His main income stems from his books, and he has even won two Grammies for the audio versions.
He's the ninth cousin of Brad Pitt.
When he was at Harvard Law School, he applied for a pin-up calendar but was rejected by the female committee.
He can't stand ice cream because of working at Baskin Robbins when he was younger.
One of his favorite drinks is bottled tea and he doesn't care for coffee.
He tried dog meat, roasted grasshopper, and snake meat when he lived in Indonesia.