Bathroom Cleaning Checklist
Scrub-a-Dub: The Ultimate Bathroom Cleaning Checklist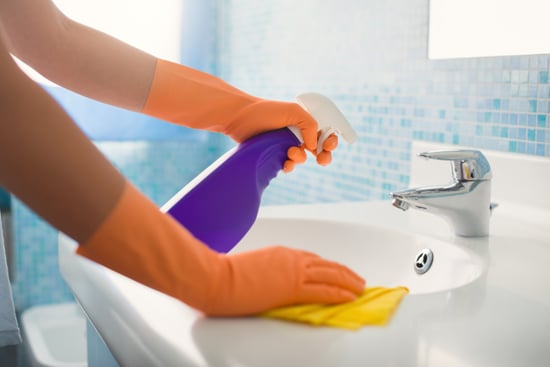 You probably dread cleaning your bathroom as much as the next person, but consider these upsides to the task: there are fewer cleaning spots to remember than other rooms, and once it's squeaky clean, you'll feel extra accomplished. The next time you take on the job, jot down this cleaning checklist for a guaranteed successful scrub.
Wipe down surfaces: Whether it's with a duster or washcloth, clean surfaces like toilet covers, tiles, and cabinets.
Clean mirrors:: Accidentally got toothpaste on the mirrors? Get them spick-and-span by spraying them down.
Wash towels and shower mats: Throw shower mats in the washer, and replace hand and body towels with new ones from the closet.
Organize cabinets: Keep medicines, Q-tips, and cotton balls in the proper place so you can find them easily; throw away expired items like old nail polish.
Clean the toilet: Leave cleaning liquid in the toilet bowl until it's time to scrub it with a brush. Wipe down the toilet rim and seat, too.
Read on for more.
Scrub the shower: This includes spraying and wiping down either the curtain or shower door, bathtub or shower floor, and stained walls.
Wash the sink: Use any special cleansers, and don't forget to wipe the sink spout and clean out any drain-stoppers.
Clean windows: If they're near the shower, then windows might suffer from the effects of humidity, so be sure to scrub thoroughly.
Put items in their place: Place loofahs and shampoo bottles where they belong in the shower, and put toothbrushes in their proper holders.
Disinfect doorknobs: One of the most used items in the bathroom, doorknobs deserve a good rubdown.
Take out the trash: Throw out waste, and start fresh with a new trash bag.
Mop the floor: As the last step, either sweep or mop the floors for an immaculate finish.