Best Brands on Twitter
Budget Airlines Are the Cool Kids on Twitter
I'm telling you, if you want to make it with the in crowd on Twitter, pal up with the wallet-friendly airlines like @JetBlue and @SouthwestAir. These budget airlines are the ones with the most friends on the social networking platform among all the US airlines. According to data from this morning, JetBlue dominates the Twitter market with about 1.6 million followers. Meanwhile, Southwest comes in second with around one million followers. Even though @VirginAmerica, a budget airline under the umbrella brand of Virgin, is more limited in the locations they fly to, the airline still ranks third in terms of Twitter friends.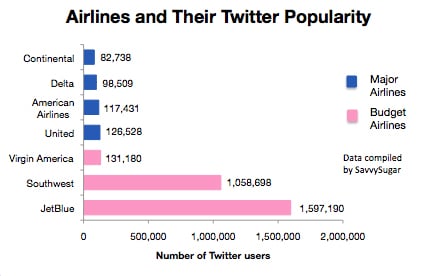 To find out what it means for airlines to be popular on Twitter, read on.
Having a huge following on Twitter is great for business, because research shows that customers are spending more time on social networking sites rather than e-mail. Not only are people spending more time on Twitter, but according to another survey, 79 percent of Twitter followers are more likely to recommend a brand after becoming its follower. In addition to talking up the company's product for them — 67 percent of Twitter fans are more likely to buy brands they follow. Basically, by investing some time and energy into social media, companies are getting free advertising and developing more loyalty among their consumers. Sounds like a total win-win situation!
We can attribute a couple of factors to why budget airlines are way cooler than major airlines on Twitter. Since the economy came crashing down two years ago, people are saving more than ever — the current personal savings stands at 5.8 percent. Before 2008, the rate had been below 1 percent for several years. Even though people are saving more out of necessity than anything else, it seems like the nation now has more of a saver's mentality. Saving money is perhaps becoming trendier, which increases the appeal of budget airlines. Another reason for their Twitter popularity can be that these companies actually "get" Twitter and are responding to their followers, and constantly sending out deals through their accounts.
Do you think budget airlines are cooler than major airlines?