Best Present to Give People
Money and Requested Gifts Make the Best Presents, Study Says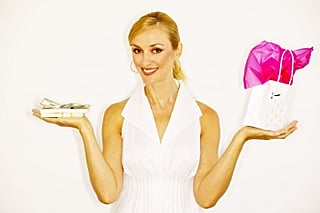 You spend so much time fussing over the right gift for someone, but your gifts might not be appreciated as you thought it would be.
According to a study by Stanford and Harvard business school professors, people tend to value money and requested presents more than gifts you picked our yourself. In fact, if you really want to give a thoughtful gift, you should buy something they asked for. Recipients feel that if the gift-giver hands over a solicited present, the givers are paying more attention to their needs. If you don't want to come right out and ask your friend what she wants, try thinking back on items she mentioned she wanted. Also, some people have wish lists on sites like Amazon, so do some digging around the Internet to see if you can find them.
An even more surprising fact: contrary to popular opinion, people are even more appreciative of money, says the study. When researchers gave gifts of the same monetary value and the same amount in cash, participants were more satisfied with receiving the cash. If you're still a bit wary about giving cold, hard cash, check out these cute ways to dress up your gift of cash.