Best Travel Deal Twitterer
Have You Scored a Travel Deal From Twitter?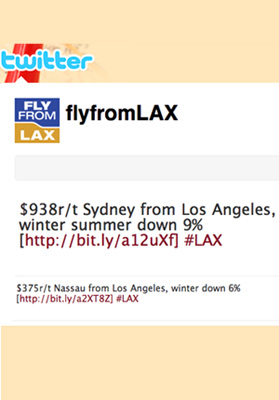 At first, I followed travel-related twitterers willy nilly. While I have my favorites for airlines (@JetBlueCheeps announces last-minute rates every Tues.), hotel chains (@Kimpton often has Twitter-only deals), and online travel sites (@Expedia actually DM'd me to fix a problem!), problem was, so many got lost in the shuffle!
If you either choose to follow just a few folks period (including @SavvySugar, I hope), or don't want to get bogged down with too many more tweeps, I've got one must-follow for travel. The website FareCompare.com has special twitterers for US origin airport/location. Search for http://twitter.com/flyfrom_ _ _ and add in your airport code (in my case @flyfromsfo) or region if you have multiple airports near you (like @flyfromnyc).
OK, so after that tip, it's time for my question. I know there are plenty of deals — so have you gotten one yet?!