The Best Way to Teach Your Kids How to Save
How to Instill Good Saving and Philanthropy Habits in Your Kids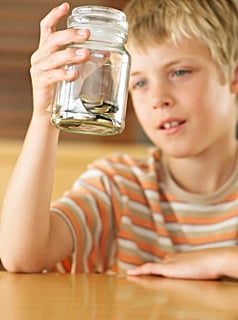 It's important to start teaching your kids good money habits early on; it creates the framework and builds the foundation for future behaviors. It will start them down the right path to learning self discipline and the importance of being financially independent.
I found this great tip from a US News interview with Danny Kofke, a special-ed teacher who is raising a family on $40,000 a year and who recently wrote a book about his experience called A Simple Book of Financial Wisdom. Basically, once his daughter Ava was 3, they started delegating easy chores to her such as cleaning her room and brushing her teeth. Danny and his wife would make a note of which chores Ava completed every day and then tally them up on Friday and pay her based on what she had accomplished. Danny explains his method:
After Ava got paid (she could earn up to $1 each week), she had three jars: Give Away, Savings and Spending. She first put 10 cents in the Give Away jar, 25 cents in the Savings jar and the remaining amount in the Spending jar. This worked so well for us. When we were at the store, often Ava would see something she wanted. We never had any arguments; we would simply say, "We'll have to go home and see if you have enough money in your spending or savings jar to buy it."

Ava has used the money in her Give Away jar in numerous ways. One year there was a little girl at my school who lost her father shortly before Christmas. Ava used her Give Away money to buy this little girl a stuffed animal. Ava actually came to my school and delivered this to her personally. Another year, Ava used this money to buy canned food for needy families in our community. This past Christmas, there was a family at her school that was struggling. Ava used the money in her Give Away jar to buy them a gift card to a local grocery store.

If Ava continues to apply these lessons in life—gives away 10 percent of her money, then saves 25 percent of it and uses the remainder for spending—and goes above and beyond in her job, she will be wealthy in more ways than a fat bank account can show.
I actually really love the idea of splitting the money into three jars and am a big fan of the Give Away jar. It's such a smart and simple way of encouraging kids to care and help out the less fortunate.