Black Friday Shopping 2011
6 Tips to Tackling Black Friday Like a Pro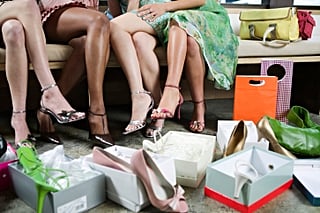 There are some that may argue that Black Friday shopping is not for the faint of heart — only the biggest bargain hunters are up for shopping on the day after Thanksgiving. If you're eager to tackle the jostling crowds for big discounts, read on for tips on how to maneuver Black Friday sales like an expert:
Call your bank. First and most importantly, call your bank to see what the spending limit is and to inform them of potential unusual activity on those days. There's nothing like having your credit card frozen to ruin your shopping plans.
Check your bank balance. If you're the type to shuttle your money away every month to your savings fund and other money accounts, you might not have enough in your account for Black Friday shopping. Make sure that your bank balance reflects the amount you plan to spend. Transfers generally take up to three days if you're moving money around between different banks, so start preparing beforehand.
Be specific when you make a list. Don't look at any ads before making this list. Base your list off of what you really need, not what looks like a good deal. Be specific and don't write things like "buy something for mom." Maybe your luggage broke and you need a new one or you're hoping to buy mom a new blu-ray DVD player. If you really want to treat yourself, be specific with what you're going to buy yourself, too.
Scour deals online. Now that you have your list in hand, make sure you keep an eye out at the major stores to see if there are any good deals available online. Many stores are selling their Black Friday sales items online earlier than Friday. Who knows? Maybe you can even do all of your Black Friday shopping from home. Do some comparison shopping while you're at it. Deal site GottaDeal.com has a great comparison chart on Black Friday deals. We've also rounded up some of our best Walmart picks so be sure to check them out.
Read on for more tips.
Keep on researching. New deals are coming out all the time and better, more accurate ads might be released by stores closer to the date itself. Not all retailers have announced their Black Friday opening times, so be sure to stay on top of it by constantly checking this list of when stores will open this year on Black Friday. Many retailers are having their sales on Thursday instead of Friday, so check the list when you're making your shopping plans.
Go digital. Keep your shopping list at hand on your phone and make sure you have your list in digital form. Keep it in your email, in a digital document, or on a note-taking app like evernote. Check the original price of the item by scanning the bar and QR code with an app like ShopSavvy. Then use your phone calculator to calculate the difference between the prices.