Booking Flights Online So Check For This
Double-Check These 3 Things Before Booking Flights Online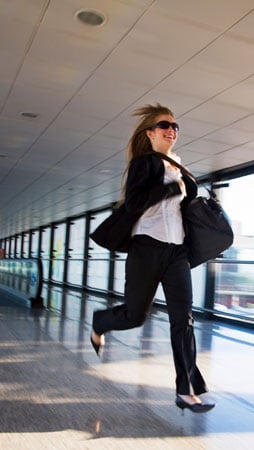 In a perfect world, I'd never experience another layover. Ever. Yet, even though the closest airport serves most of my standard routes, I still find myself making those familiar connections when visiting family that don't live near a hub. Since I always aim to get the best flight deal possible, I usually check out travel websites as well as the airline's page itself. After honing in on the best price, never neglect to look at these three things, too:


Check layover length. "It wouldn't show me this if it were impossible for a non-superhuman." Wrong. While I've spotted itineraries with layovers of 40 minutes or less, if the first flight leaves just 20 minutes late, or you arrive into A and out of D, it's time to kiss that connection goodbye. Know that anytime you choose a domestic flight with less than one hour (two hours for international), you're more likely to run — and run into — problems.
See two more when you read more.
Check departure/arrival dates. Yes, it's usually in red, but remember that red-eyes arrive the next day so, if you want that, search the prior date. Also, many websites that spit out the cheapest fares first . . . have not-so-fun additions like a 10 p.m. layover arrival followed by a 6 a.m. layover departure — hello, sleeping at the airport.
Check airline changes. One of the greatest risks when cutting a flight close is the bags. While people may be willing to run, there's no guarantee your luggage will as quickly make it off plane no. 1 and onto plane no. 2. Adding a new issue is hopping from one airline to another after a connection — it's easier to re-route or relocate a bag when only dealing with the same company from the start.