Borders Closing
When Your Local Borders Closes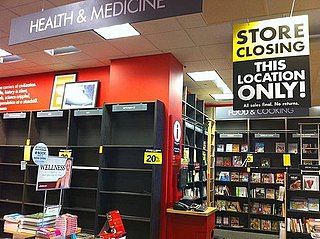 My Sunday relaxation plans include a trip to Borders, one of my favorite places in the world. However, horror struck me yesterday when the discount signs plastered all over the store's windows finally registered in my mind — my local Borders is closing! It was heartbreaking to see the "Everything Must Go!" signs all over the bookstore and the depressingly empty bookshelves. It was also very sad to read the goodbye messages that patrons and workers scribbled all over the bathroom walls.
Borders has been losing money and closing stores because of the battle against the online book industry. I love my Kindle and am a big supporter of ebooks, but there is nothing like sitting in a Borders cafe, drinking a latte, and flipping through some glossy magazines on a lazy Sunday afternoon.
R.I.P. Borders, I will miss you. Has the recession closed any of your favorite stores?