Burger King To Sell Starbucks
The King to Sell Starbucks, Will You Buy It?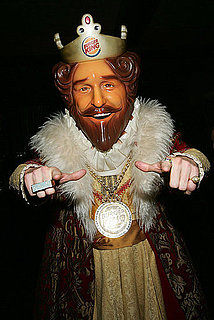 The competition is hot with coffee. First, McDonald's rolled out its own McCafe coffee drinks in 2008, now Burger King hopes to one-up their fast food rival by offering Starbucks-owned Seattle's Best Coffee in 7,250 of its US stores come September. Think this menu addition won't change your morning routine? What if you could score Starbucks quality (100 percent Arabica beans) for anywhere from $1.00 to $2.79, a pretty major discount if you're already shelling out $3.50 for a latte a day. That's the deal, as long as the name Seattle's Best doesn't scare you off — Seattle's Best was acquired by Starbucks in 2003, and now operates as a part of the brand.
So, if you're not deterred by the name branded on your to-go cup, you're getting Starbucks at a pretty decent price cut — assuming you can resist adding a BK breakfast sandwich to your order.
What do you make of the news? Will you head to BK for your coffee fix or are you hooked on your Starbucks, minus the fast-food pit stop?