CEOs Who Use Their Own Products
7 Cool CEOs Who Actually Use Their Own Products
One of the must-have traits of a CEO is having a passion for your product. You have to really believe in what you're selling to get other people to believe in it, too. And one clear sign that you really love your product is if you're using it constantly, as evidenced by the CEOs below:
1. Yelp CEO Jeremy Stoppelman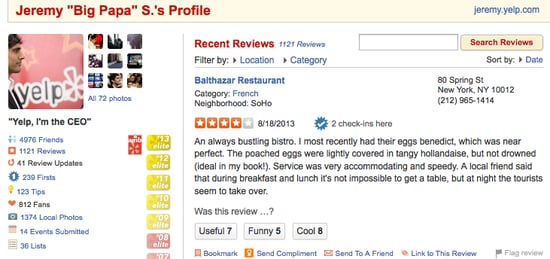 Stoppleman aka "Big Papa" is quite the active Yelper with 1,121 reviews written. And his account is definitely not a dead one — the most recent review was written on Aug. 18. His profile boasts 239 Firsts (which means he was the first one to check into 239 places) and 1,374 uploaded photos.
Read on for more.
2. Twitter CEO Dick Costolo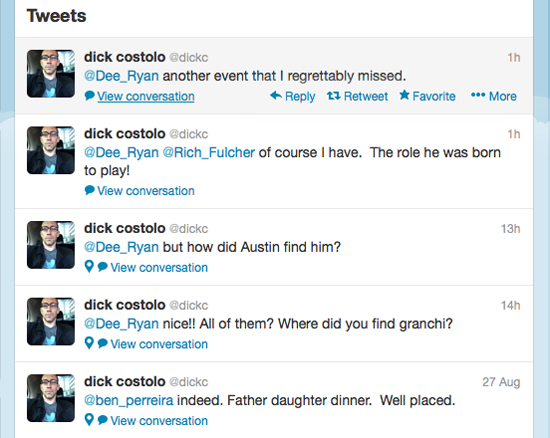 Costolo is extremely active on his Twitter account, and there's hardly a day that goes by when he's not sending out multiple tweets to the Twitterverse. The most recent photo he uploaded was on Aug. 26, and his last tweet was sent out a few hours ago. Compared to all the other CEOs on this list, Costolo is by far one of the most active.

3. Instagram CEO Kevin Systrom

Filled with photos of mouthwatering food, breathtaking shots of nature, and a few sneak peeks of his personal life, the CEO of Instagram does update his account. He has five uploads, a video and four photos, in August so far. Can we just say that we're really jealous he snagged the username Kevin?

4. Quora CEO Adam D'Angelo

If you didn't know D'angelo was the CEO of Quora, you'd still think this guy really loves Quora. Although the majority of his recent activity consists of upvotes, he still continues to answer questions — many of them seem to be Quora-related. To date, he has answered 871 questions and posted 922 questions. He also has made an impressive 24,974 edits to posted questions and answers.

5. Reddit CEO Yishan Wong

There's no doubt Wong really loves the site. After all, his profile shows a mind-boggling 42,253 comment karma. We're impressed by his lengthy comments and constant updates. He always manages to post every few days, and many of his answers are paragraphs long. And the types of comments he writes are quite varied, from answering love dilemmas to giving workout advice. One more thing to note about Wong is that he is also active on other social media networks such as Quora. We just have one question for him: how do you find the time?

6. Facebook CEO Mark Zuckerberg

The recent activity of founder and CEO Zuckerberg seems to suggest that he updates his Facebook whenever he has something important to share. The most recent updates were sharing Facebook's plan for giving everyone Internet access, a call to action for immigrant rights, and a sad death announcement of Facebook's executive chef. He does seem to share a lot of photos through his phone as his mobile uploads album consists of about 161 photos. Our favorite is the one of Beast, his extremely cute Puli dog.

7. LinkedIn CEO Jeff Weiner

If you're looking for an example of what an optimal LinkedIn account looks like, head on over to Weiner's profile. To-the-point but descriptive summary? Check. Thorough but succinct list of past jobs? Check. Recommendations by others? Check. Noncheesy professional profile photo? Check!