Calming Travel Playlist
77 Calming Songs For Anyone Who Hates Flying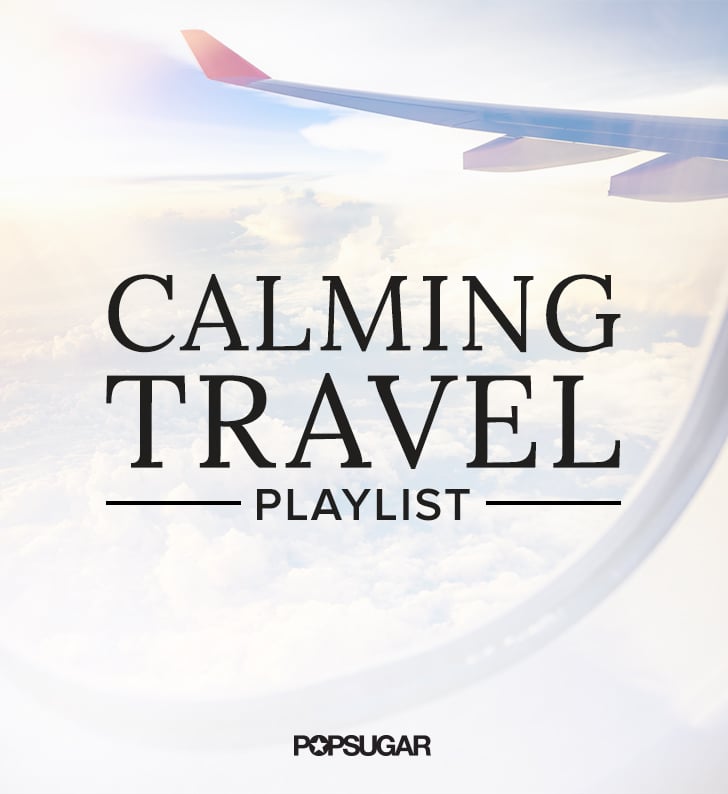 Trust us, we know that air travel can be a pretty daunting undertaking. It can be easy to psych yourself out and inundate your mind with unnecessary stress (especially after having to endure the pre-takeoff madness of rushing to the airport and navigating TSA!). Since it really does you no good at all to panic midflight, we've come up with the ultimate playlist to mellow you out, temper your worries, and calm you down. Get to listening, and feel secure in knowing that you'll be arriving at your destination feeling the utmost chill.
And while you're at it, don't forget these travel products that'll make your next adventure that much easier.
"All of the Stars," Ed Sheeran
"America," Simon & Garfunkel
"Be OK," Ingrid Michaelson
"Big Jet Plane," Angus & Julia Stone
"Bloodstream," Stateless
"Breathe Me," Sia
"Brother Sparrow," Agnes Obel
"Ceilings," Local Natives
"Chocolate," The 1975
"Coffee," Copeland
"Cola," Toro Y Moi
"Come Back When You Can," Barcelona
"Come Pick Me Up," Ryan Adams
"Comes and Goes (in Waves)," Greg Laswell
"Crazy," Daniela Andrade
"Dawn," Marianelli, Jean-Yves Thibaudet
"Don't Worry Be Happy," Bobby McFerrin
"Fade Into You," Mazzy Star
"Falling in Love at a Coffee Shop," Daniela Andrade
"Golden Love," Midnight Youth
"Hard Times," Eastmountainsouth
"Harvest Moon," Neil Young
"Hero," Family of the Year
"Home," Phillip Phillips
"I Will Follow You Into the Dark," Death Cab For Cutie
"Keep Your Head Up," Ben Howard
"Kiss Me," Ed Sheeran
"Landslide," Fleetwood Mac
"Latch," Daniela Andrade
"Lego House," Ed Sheeran, Jake Gosling
"Long Ride Home," Patty Griffin
"Loro," Pinback
"Medicine," The 1975
"My Father's Gun," Elton John
"No One's Aware," Jack Savoretti
"Oh! Sweet Nuthin'," The Velvet Underground
"Old Pine," Ben Howard
"Outro," M83
"Paper Doll," John Mayer
"Playground Love," Air
"Put Your Records On," Corinne Bailey Rae
"Reasons to Love You," Meiko
"Release Your Problems," Chet Faker
"Rise — Epic Music," John Dreamer
"Safe and Sound," Taylor Swift, The Civil Wars
"Same in Any Language," I Nine
"Sheets," Damien Jurado
"Skinny Love," Birdy
"Square One," Tom Petty
"Starálfur," Sigur Rós
"Stay Alive," José González
"Stop This Train," John Mayer
"Sweet Disposition," The Temper Trap
"Sympathy," The Goo Goo Dolls
"Tee Shirt," Birdy
"That's the Way," Led Zeppelin
"The Day I Lost My Voice (the Suitcase Song)," Copeland
"The Family Tree," Unconditional Arms
"The Heart of Life," John Mayer
"The Moon Song (From Her)," L'Orchestra Cinematique
"They Move on Tracks of Never-Ending Light," This Will Destroy You
"Think of Me," Rosi Golan
"Think of You," A Fine Frenzy
"Thinkin Bout You," Daniela Andrade
"Three Little Birds," Bob Marley & The Wailers
"Time After Time," Chet Baker
"Tiny Dancer," Elton John
"Tornado," Jónsi
"Trip," Vacationer
"Use Somebody," Kina Grannis
"Wade in Your Water," Common Kings
"Walking," The Dodos
"Warm Whispers," Missy Higgins
"What the Water Gave Me," Florence + The Machine
"When the Stars Go Blue," Ryan Adams
"You Take My Troubles Away," Rachael Yamagata, Dan Wilson
"Youth," Daughter
Just remember: you'll need to download the free Spotify software or app to listen to our playlists!