Can't Afford an Open Bar, but Want One
Ask a Savvy Bride: Is It Tacky to Cut the Bar?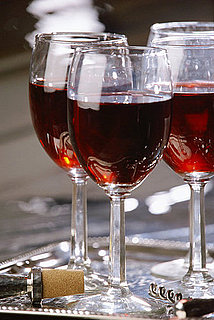 Wedding planning and etiquette can be tricky. If you have a dilemma like the one below, share it in our Ask Savvy group.
Dear Savvy,
My fiance and I really want to offer our wedding guests a full bar for our cocktail hour and reception, but after looking at the numbers, we truthfully can't afford it. I'm willing to get creative in order to make it happen but my fiance's idea just doesn't sit well with me. He thinks we have an open bar until we reach a certain dollar amount, then cut the bar to just beer and wine. I envision a record scratching when that time comes — do you have any ideas for us? I don't want us to look tacky or cheap.
Want the Booze Becky
To see the Savvy Bride's advice, read more.
Dear Becky,
Having an open bar at any kind of reception is no doubt expensive. With that said, there's absolutely nothing wrong with serving beer and wine to keep the cost down! If you're completely opposed to that idea, I suggest you dictate an end time for the open bar as opposed to setting a dollar amount. Perhaps you serve cocktails during cocktail hour, then close the bar for the reception. Another way to be mindful of money is to have a limited bar. Stick to just a few different kinds of alcohol (see if you can bring them in-house yourself) and shy away from specialty drinks that require additional bells and whistles.
Hope these suggestions help. While it might seem like a big deal to you, I'm sure your guests will be more concerned about having fun and celebrating you and your new husband than what alcohol they are drinking!
Ask anything budget-, etiquette-, or planning-related — well, almost anything — by posting your questions in the Ask Savvy group, and I'll find the right expert to help you out. If you are planning a wedding, already happily wed, or still looking for Mr. Right, start sharing your big day with our community. Don't forget to check the wedding content box on your post.