The Celebrity Apprentice Episode 4, Off the Hook, Recap
Lil Jon and Nene-Inspired Strategies From The Celebrity Apprentice: "Off the Hook"
This week's episode, "Off the Hook," of The Celebrity Apprentice was a Nene Leakes vs. Lil Jon showdown. The reality TV star and rap mogul went head-to-head while leading their teams to produce a commercial for ACN, a telecommunications company. Although I wish I kept count of how many curse words came out of their mouths, I was able to catch some great pointers for working professionals. Check them out: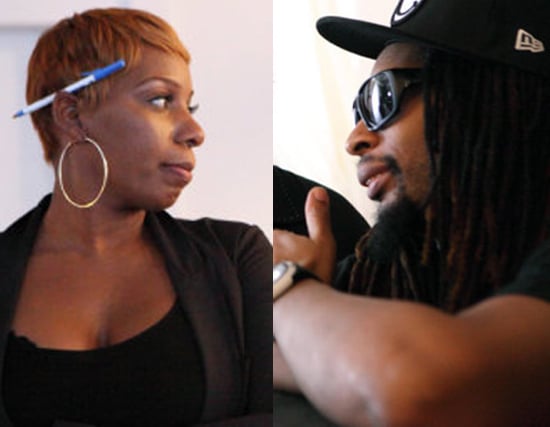 "We lost against Gary Busey . . . Are you kidding me? — Nene
Their morale was low after last week's loss, but I was happy to see the women regroup and take the next challenge head on. After making several mistakes or losing an account to an inexperienced competitor, as a team leader, you must recognize and correct the team's internal faults.
To see what else Nene and Lil Jon had to say, keep reading.
"If everybody else is sticking it out, so should she. Nobody cares about her bein' a legend." — Nene
A team that works together is a team that wins together. This applies to divas, as well. Since Dionne decided she wasn't needed, she went home early, but if she hadn't, she'd probably still be on the team. Leaving your team members shows you aren't as invested as they are. Plus, team support (moral or physical) can help productivity.
"I wanna make them feel like if they don't like this video, they're some square-ass bleep." — Lil Jon
While the ladies wanted to bring an emotional experience to their commercial, Lil Jon did what he does best: the hip, cool experience. He and the Backbone team produced a Superbowl-esque commercial, which had Jose Canseco play a gay Argentinian. Although it was a risky approach, the guys were able to think out of the box and capitalize on a changing social perception.
"I'm like a light switch. Flip that switch on and it's lights, camera, action, guns blazing." — Lil Jon
Lil Jon's presentation of the commercial was much more high energy than Nene's. His mantra is all about getting people to want to come to the metaphorical party. And if you want people to notice you, don't be scared to make an attention-grabbing, albeit tactful, splash.
"The people that succeed take chances." — Lil Jon
I concur, Lil Jon. Just don't expect success after every chance.
"It's not personal." — Nene
Ladies! It's the third loss in a row, and you aren't doing yourselves any favors by voting yourself off the show! Like I said last week, quitting doesn't show integrity; it shows a lack of strength and dedication. Also, stay professional during business hours! Ms. Dionne, you are fearless. I would never hug Nene, call her a coward to her face, and then exit the room — totally not SavvySugar approved.
Photo courtesy of NBC