The Celebrity Apprentice Work Strategies
6 Savvy Strategies From This Week's The Celebrity Apprentice
It was another two hours of strategizing, scheming, and Star Jones-filled fun on The Celebrity Apprentice's latest episode, "Child's Play." We saw Jose Canseco dress up in drag — kind of — and Lisa Rinna outplayed and ejected from the board room; but what's more, we learned several savvy strategies to use in our normal, real-reality careers.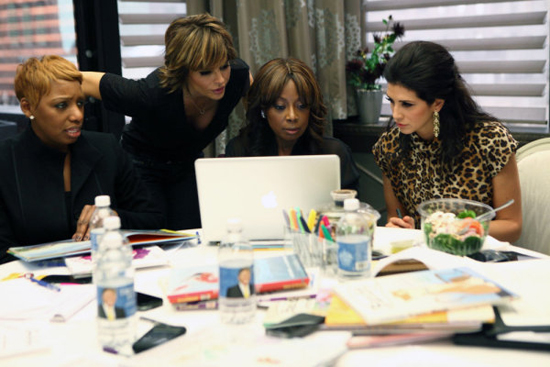 Don't get bullied into a leadership role. — The ladies on team A.S.A.P. are pretty darn cut-throat. They pressured Lisa into taking the project manager role because they (or at least Nene) wanted her ousted. What's the best way to get rid of a competitor? See her fall from above. If you're not ready to take charge, like Lisa, don't. Your failure could be exactly what your competitors want and may lead to your corporate extinction.
For more strategies, read after the jump.
Present yourself professionally. — Was anybody else surprised that Mr. Trump took a big chunk of air time to compliment Lisa's lip reduction? Looking professional matters in the corporate world. Over-the-top looks, or inflated lips in this case, can lead to negative associations with your work ethic and presentation or worse.
Stay calm during tumultuous moments. — This can be hard for strong personalities, especially celebs. La Toya Jackson's brief breakdown made her look weak and resulted in queen bee Star Jones putting her in check. Don't get caught up in office politics. If you're feeling emotional, take a personal moment to work it out . . . lest you want your peers to doubt your rationality and professionalism.
Try to capitalize on seniority. — Oh, Miss Dionne Warwick! Nobody wants to mess with this diva; she's almost untouchable. She's a legend with years of experience on her side. Finagle yourself in a group project where you're the most senior team member; you'll find people might not want to disrespect or argue with your experience level.
Listen to your boss's advice. — Trump and his board had to tell Lisa at least three times that she probably shouldn't have told them she didn't want to be or wasn't a good project manager. And she still kept saying it! Don't repeatedly advertise your shortcomings to the higher-ups. When they give you advice, take it; it's generally for your benefit.
Passion pays off. — Congrats to Meat Loaf for his first win! His dedication and passion for his charity, The Painted Turtle, was apparent in the water gleaming from the former rock star's eyes. The more you care and the harder you work, the better the results!
Come back next week for more savvy strategies garnered from the next episode of The Celebrity Apprentice. Gary Busey is going to be the next project manager for the guys . . . can't wait to see what we can learn from him!
Photo courtesy: NBC