Cheap Manicure Tips
How to Survive a Cheap Manicure Experience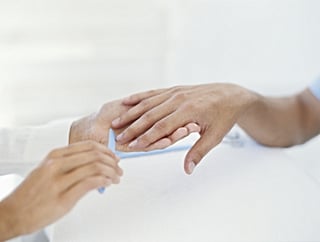 A while back, I was super stoked to find this shop near my workplace that offered $10 manicures. So far, I've been there a couple of times and shared this gem with my friends, and most of them have loved it. There are one or two people who didn't care for the lower prices, because they would rather pay more to ensure quality service, impeccable treatments, and a soothing atmosphere. I'm the kind that just likes to get the job done and can do without the extra frills. Before you take my lead, you gotta know what you're getting into. Read this quick guide to find out more on how to maximize your cheap spa experience:
Read Reviews: Don't walk into a store blindly and do your research on sites like Yelp. If hygiene is a question, do not risk your health for a cheap manicure! For example, if you learn that they don't clean the equipment, you're better off doing your nails yourself.
Lower Your Expectations: Don't go in expecting that your $10 will get you a $100 spa experience. Your dollar can't stretch that far. A deal is a deal and usually you get a little more than what you pay for. If you expect a five star treatment, you're going to be very disappointed. Go in with a realistic mindset.

For more tips, read after the jump.

Check the Prices: Even if one treatment is very cheap, it doesn't mean that the others will be as well. I found out that the pedicure costs $21, and although it's still a good price, it's not as great of a deal as the manicure. It's tempting to bundle up a manicure with other services, so keep track of what you are spending.
Bring Your Own: After my first $10 manicure, the paint started chipping shortly after. Perhaps the nail estheticians water down the nail varnish, I don't know. I decided to deal with it by bringing in my own nail varnish, and the coat of paint on my nails has been lasting a lot longer.
Don't Give Into Your Emotions: So it wasn't what you expected, and you're mad. Don't throw a fit because it won't help the situation. It's just one experience and one bad manicurist. Vent your emotions out on Yelp.com instead — you'll be helping others out and relieving yourself at the same time!