Cheap Travel Booking Site
Get Major Savings With This New Discount Travel Site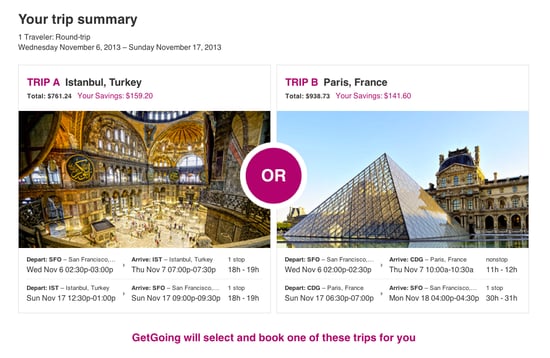 Get excited, because you're about to meet your new favorite discount travel site. In a world full of ticket-buying sites and apps, GetGoing is new to the game — it officially launched this Spring — but it's already changing the way we book.
Here's how it works: thanks to its "Pick Two, Get One" system, you choose two destinations you want to visit; pick flights based on price, date, and time; and enter your credit card info. GetGoing then randomly selects and books one of those two itineraries for your vacation, promising up to 40 percent off the original ticket price. The only catch is you can't cancel or change the flight, and the destinations have to be more than 50 miles apart. It's a spin on the blind bookings we've come to expect from sites like Priceline, except this way you actually know your flight cost and schedule before you buy. You can even enter your own destinations or choose from regional and adventure categories like "Europe" or "beaches and sun."
How does it snag those deep discounts, you ask? The company negotiates directly with airlines to fill empty seats by offering cheaper fares to leisure travelers. Because you're being flexible by taking a risk on the final destination, you prove that you're traveling for fun (as opposed to business travelers, who are willing to pay a higher price to get where they need to be).
Aside from the "Pick Two, Get One" system, GetGoing also lets you book flights and hotels directly at a discounted price if you don't want to do the coin flip. With all those options, what else do you need? Dream vacation, here you come.