Cheaper Wedding Invitation Ideas
Save Some Dough on Your Save the Dates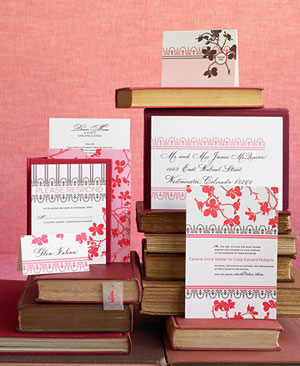 Although they're sent out months before you say "I do," wedding invitations and save the dates are an important part of your big day. They set the tone for your nuptials — casual? black tie? beach wedding? — hint at your wedding colors and décor, and of course, give guests crucial info about when and where the good times are taking place.
But like everything else wedding-related, all those little pieces of paper can easily cost a small fortune — unless you know where to look. No matter your budget, there's an invite option to fit. To choose the right one for you, read on.


DIY: If you, your intended, or a good friend is super crafty, make a DIY project out of your invites. Design your own template, or create a graphic or logo to carry through on all your wedding stationery. Need inspiration? Martha Stewart Weddings is always a good place to start!
DIY . . . with some help: If you want that unique, homemade look but (like me) lack the design skills to make it happen on your own, try a little DIY assistance. Etsy seller JulieHoogDesigns, for instance, sells digital templates for wedding invites. Pay once for the template, personalized with your color choice and all your info, and have the invites printed yourself. Or try retailers like Target or Staples for wedding invitation kits, complete with stationery, envelopes, and downloadable templates.
Order online: Even if you'd like someone else to do all the work for you, invites don't have to be super pricey. Online invitation retailers are substantially cheaper than in-person stationery shops, and can produce equally beautiful results. I used MyGatsby, which sends you hard-copy invitation and card stock samples before you order, and sends an email proof of your masterpiece before printing. Invitations, envelopes, and response cards for 75 guests set me back $150. The quote for similar invitations from a local stationery store? $600.
Got your own wedding budget tips to share? If you are planning a wedding, already happily wed, or still looking for Mr. Right, start sharing your big day with our community. Don't forget to check the wedding content box on your post.
Source: Martha Stewart Weddings