Cleaning Schedule For Apartments
Cleaning Schedule For Apartment Dwellers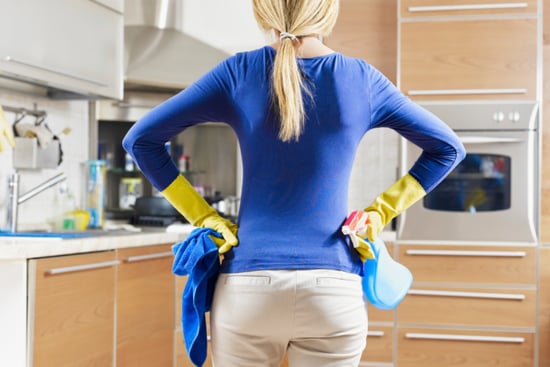 Cleaning can become a time-consuming task if you leave it until the very last minute, but a little a day goes a long way, and soon you won't find yourself cringing about setting aside a few hours of your time on the weekend to put your apartment in order. I've seen a lot of checklists for people who live in houses, but not a lot for those who reside in apartments, so here's a quick schedule for those who live in small spaces:
Daily Tasks
All Rooms
Pick up after yourself and make sure you're not creating clutter or adding on to existing clutter.
The Kitchen
If you cook, wipe the grease off your stove. Clean any messes you made.
Wash dishes.
The Living Room
After eating, clean off any crumbs you find.
The Bedroom
Fold and hang your clothes or put dirty clothes in a hamper.
The Bathroom
Pick up any hair you see that drops to the floor or in the shower stall.
Tasks For Every Two to Three Days
All Rooms
Take out the trash. Take it out earlier if it's full or if there's something that smells bad.
Clear stuff off surfaces in your living room, bedroom, kitchen, and bathroom. Make sure you're not adding clutter to your entryway
The Bathroom
Wipe your bathroom mirrors.
Wipe bathroom surfaces.
Read on for more.
Weekly Tasks
All Rooms
Wash your linen, mats, and towels.
Dust surfaces.
Do your laundry. Then iron and fold or hang your clean clothes.
Vacuum your carpet and mop your floors.
Sanitize your remote control, phone, keyboards, laptops, and other gadgets you handle on a daily basis.
The Kitchen
Clear leftovers from the fridge.
The Bathroom
Clean your toilet.
Clean your bathtub or shower stall.
Monthly Tasks
All Rooms
Clean your windows and mirrors.
The Kitchen
Clean your fridge, microwave, dishwasher, oven, and other appliances. You can use a natural cleaning agent such as vinegar to reduce the toxicity. Here are ways you can use vinegar to clean.
The Living Room
Wipe down the upholstery, such as the sofa and chairs.
The Bedroom
Organize your drawers and closet. Donate, sell, or throw out anything you don't need.
Many of these tasks are quite subjective, and some people tend to do them more frequently or less often than stated above. How do you keep your apartment squeaky-clean?