Coffee Filter Bouquet Garni
No Cheesecloth? No Problem! DIY Coffee Filter Bouquet Garni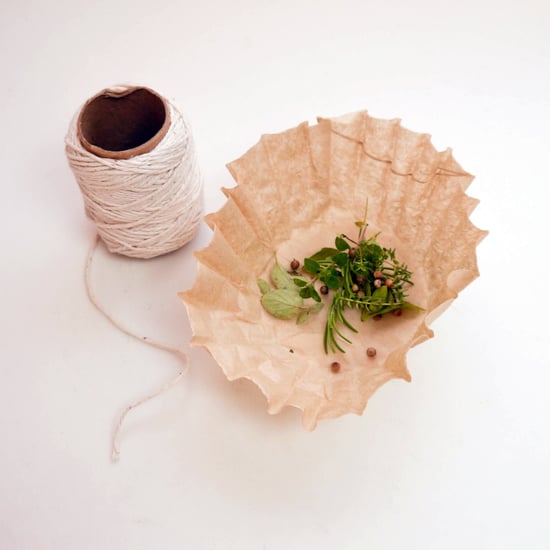 If you've got odds and ends of seasonings loitering in your spice cabinet, use them for making a flavorful bouquet garni. Don't freak out — it's easier than you think. Typically made with cheesecloth, this French cooking technique of adding flavor to soups, stews, and sauces works just fine with the help of a coffee filter. Here's how to make one:
Start by gathering the herbs and seasonings you'd like to use. Anything works, from ends of fresh herbs to leftover chopped veggies to lemon rind. Pop the ingredients in the center of the coffee filter.
Now trim a six-inch length of cotton twine and pull the sides of the coffee filter together, tying to secure.
Pop the coffee filter bouquet garni into your next soup, stew, or sauce, and you've got instant flavor without having to dig out bits and pieces of herbs!
You can create lovely flavor profiles by pairing tasty ingredients together, such as rosemary, garlic, oregano, and basil for adding a total Italian kick of flavor to a can of tomato sauce. Or get spicy with chopped red pepper, garlic, oregano, and some green chili! Yum.