Consignment: Buy or Sell?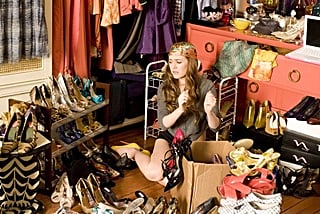 I decided to get an early head start on Spring cleaning and get to work with a little housekeeping post holidays. For starters, I went through my whole closet, tackling years of unworn, forgotten clothing — prom dresses included, yikes! After cataloging the goods, I realized that there was some pretty decent loot there, regardless of whether it still fit me or not. My next step is to head to the closest consignment store to unload the goods and hopefully score a small sum. It's a chance to make a little money back, especially in the case of any designer pieces I can no longer wear.
But recently I've noticed a trend among my friends — tons of them are hitting the consignment shops to load up on discounted, designer finds. It's a thrifty way to get some great pieces. Still, when I'm on a run to consignment, I'm hoping to make money, not spend it, even if it is at a smaller cost. What about you? Are you a consignment buyer or seller?