Consignment Store Shopping Tips
6 Secrets to Bargain Hunting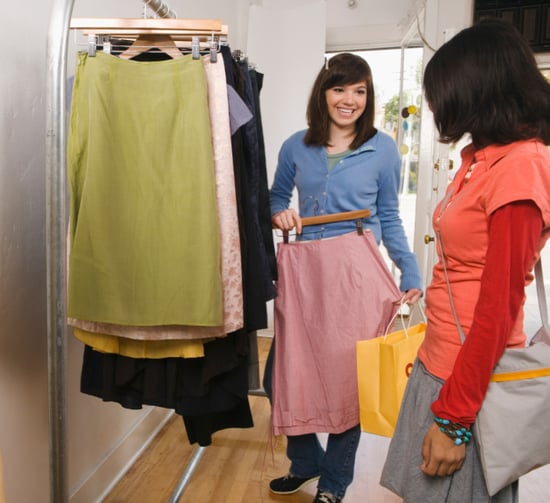 This past weekend, a friend and I spent a glorious Saturday afternoon being shown around by a frugal fashionista who gave us a crash course in bargain hunting. I think I must have squealed a few times over the amazing finds I spotted in consignment stores and little neighborhood shops. I found a BCBG dress for just $25 when it originally price was over $200, and to top it all off, it was in great condition. I didn't buy much this time, but I did pick up some valuable tips from my shopping trip. Here they are:
High and Low: There is a mix of high- and low- end consignment stores so remember to check out both. On my little bargain excursion, I saw pieces from Marc Jacobs and Diane von Furstenberg at about 80 to 90 percent off at a higher-end store and found some great basic pieces at the low-end store. Mix and match it up, just like you would with your outfit!
Check the Tags: If you're super iffy about wearing something that's used, check the tags to see if it's new. Some stores get their clothes from wholesalers who have some clothes left over or from shops that need to get rid of some stock to make space for the new arrivals.
Read on for more tips.
Be OK With Gently Worn: The prices are phenomenal, but you have to bear in mind that they are greatly discounted for a reason. The stores are careful about the clothes they stock— you won't usually find anything that's terribly used at a decent consignment store.
Trade, Trade, Trade: Consider bringing in some clothes you're ready to give up and exchange them for new ones. It's a good incentive for cleaning up the clutter in your closet, and it'll feel like you're getting free clothes!
Digging is Key: Sometimes you have to dig to find that one special piece you can't leave the store without purchasing. There are real treasures to be found in consignment stores, so don't shy away from rolling up your sleeves and rummaging through the racks.
Secret Shoppes: My frugalista friend took me to a clothing boutique that sells some of the brands commonly found in Urban Outfitters, but at a cheaper price! And, these pieces are brand-new

to boot

. If you're in the know, you can sometimes find the same clothing that a commercial store sells for much less in these hidden neighborhood gems.