Conventional vs. Organic Grocery Prices
Organic vs. Conventional: Price Breakdown of 10 Common Groceries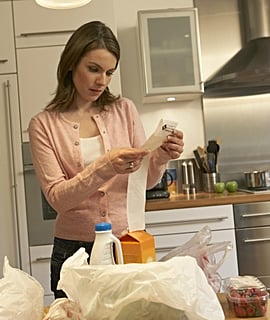 To choose organic, or not to choose organic: that is the question. Whether it is nobler to choose better quality and suffer the outrageous fortune at the cash register or buy conventional items that are lighter on the wallet. Luckily, we have done the dirty work for you by comparing the prices of 10 common groceries. You might be surprised how comparable some of the prices are. If you choose the completely conventional route, all of these groceries add up to $34.22 a week. Likewise, if you opt for 100 percent organic fare, you will pay $53.41 a week. That's a $19.19 difference, which may seem pretty steep.
You'll notice we have checked off our Savvy Picks. You might be wondering why we're opting for the more expensive organic animal products. If you haven't seen Food Inc., you should definitely educate yourself on the conventional animal farming practices in the USA. Think: cramped animals in unsanitary conditions that are fed hormones, steroids, and antibiotics to synthetically accelerate their growth and prevent illness. In our opinion, sometimes the quality of organic food trumps the price of its conventional counterpart, and our Savvy Picks reflect which foods we think are worth going organic.
Ultimately, only you can decide what feels best for you and your budget. It might make sense for you to buy cheaper coffee and cereal to save up for organic milk. Or, maybe you're paying off a credit card, and every cent you save counts. Now's the time to calculate all of your options, so you can stick to your budget while shopping.
See the complete breakdown of organic vs. conventional foods here.
Food Item
Name
Type
Price
Price Per Unit
Savvy Pick

Cereal


Cheerios
Conventional
$2.99/14 oz
$0.21/oz
✓
Cascadian Farms Purely Os Organic Cereal
Organic
$5.99/9 oz
$0.58/oz
Milk
Dairy Glen Milk 2%
Conventional
$3.39/gal
$0.03/fl.oz
O Organics Organic 2% Milk
Organic
$6.59/gal
$0.05/fl. oz
✓
Apples
Red Delicious
Conventional
$1.10/each
$1.10/each
✓
Organic Red Delicious
Organic
$2.49/lb
$1.25/each
Broccoli
Broccoli
Conventional
$1.99/lb
$0.12/oz
✓
Organic Broccoli
Organic
$3.00/lb
$0.19/oz
Chicken
Foster Farms Chicken Breast
Conventional
$3.59/lb
$0.22/oz
O Organics Chicken Breast
Organic
$8.99/lb
$0.56/oz
✓
Coffee
Safeway Select Breakfast Blend Whole Bean Coffee
Conventional
$6.99/11 oz
$0.64/oz
✓
Big River Breakfast Blend Organic Coffee
Organic
$7.99/12 oz
$0.67/oz
Bread
Sara Lee Classic 100% Whole Wheat Bakery Bread with Honey
Conventional
$2.50/24 oz
$0.10/oz
✓
Alvarado St Organic Bread Sprouted Wheat
Organic
$2.99/24 oz
$0.13/oz
Peanut Butter
Jiff Creamy Peanut Butter
Conventional
$4.49/28 oz
$0.16/oz
✓
O Organics Creamy Peanut Butter
Organic
$4.39/18 oz
$0.24/oz
Eggs
Lucerne Eggs Large Grade AA
Conventional
$2.19/dozen
$0.18/egg
O Organics Organic Grade A Large Brown Eggs
Organic
$4.99/dozen
$0.41/egg
✓
Strawberries
Driscoll's Strawberries
Conventional
$4.99/lb
$0.31/oz
Driscoll's Organic Strawberries
Organic
$5.99/lb
$0.37/oz
✓
Pricing Source: Safeway