Cost-Saving Tips For Wedding Dinner
5 Smart Ideas For Cutting Wedding Food Costs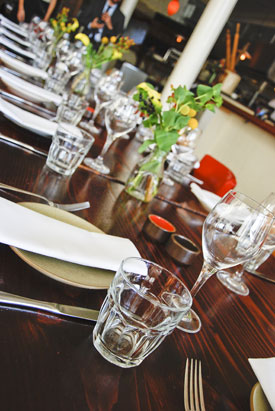 Food costs definitely make up one of the biggest chunks of a wedding budget, but they don't have to totally break the bank. Nor do you have to sacrifice a delicious, memorable wedding meal in the name of saving; you just have to get creative! To inspire you, here are five unique cost-saving ideas from real-life savvy weddings.
A family affair: When my sister got married years ago, we enlisted the whole family to make things manageable. Our grandparents, who owned an amazing barbecue restaurant, catered the reception in a beautiful old barn. Our aunt, a librarian by day, pastry chef by night, baked the most amazing, beautiful almond cake, plus almond cookies as favors.
Take over your fave restaurant: Two of my favorite weddings ever took place in the couples' favorite restaurants. My oldest sister had a small, intimate ceremony on the patio of the restaurant, followed by a delicious sit-down meal in the cozy, candle-lit dining room. A couple of close friends had a low-key ceremony at city hall, followed the next day by a big celebration, complete with wood-fired pizzas and specialty cocktails, in their favorite spot. It's more affordable than you might think, and you'll often just pay a flat fee for both the venue and the food.
To see a few more memorable, budget-friendly wedding dinner ideas, keep reading.
A Michelin-starred meal for less: My own wedding was held at a beautiful old mansion in wine country that also just so happened to be a Michelin-starred restaurant. We had a three-course, sit-down meal for around $50 per person, way less than the average $100 or more a head that most sit-down dinners cost.
Custom carbo-loading: My college roommate's wedding down in sunny Southern California featured a build-your-own-pasta buffet catered by a local restaurant. Each guest chose exactly what type of meat, fish, veggies, or sauce he or she wanted, and the chefs tossed together a customized pasta dish while we waited. It was just as easy and much more delicious and fun than a traditional buffet, and it only set the couple back about $10 per person.
A Kentucky backyard BBQ: One childhood friend tied the knot in his bride-to-be's family's lush, green backyard in Kentucky. They set up tents and built all the décor themselves, and in keeping with the casual, Southern vibe, their wedding dinner was catered by a local barbecue joint. The result was finger-lickin' good, laid-back, and budget-friendly.
Photo courtesy of Urban Shutter Bug Photography