Counting Cash Can Reap a Psychological Reward
Savvy Fact: Counting Cash Can Reap a Psychological Reward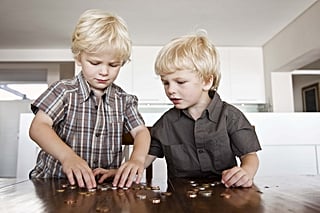 Ask any career coach, interviewer, friend, or even stylist, and she'll tell you confidence is the number one thing that will give you an edge and make you stand out. Traditionally, confidence before an interview comes from thorough preparation, conviction that you have what it takes, and an outfit that makes you look the part, but a recent study suggests you might want to add a step to your preinterview checklist.
According to a study, counting cash "can reduce emotional and physical pain as well as increase feelings of internal strength, fearlessness and confidence." One of the study's authors, Roy Baumeister of Florida State University, translated the study's conclusions into real-life application and said, "It might be handy to sit down and count a stack of money before going out to the job interview."
I know the feeling of holding a wad of cash (even if I know I am about to part with it) gives me a little boost of power. Have you ever felt a surge of confidence holding a stack of money, or do you think Baumeister's findings are bogus?