DIY Bottle-Cap Candles
Supercute! Easy DIY Bottle-Cap Candles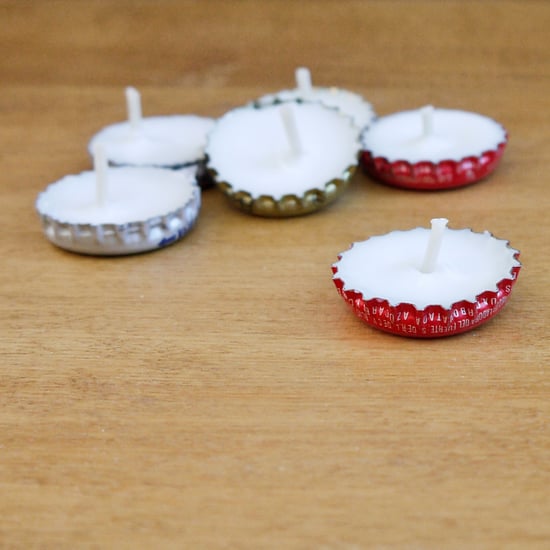 Save your bottle caps and candle ends for making these adorable minicandles. Pick up candle wicks at your local craft store for only a few bucks, which makes this DIY just about free. Personalize the set by using tops from your favorite beverages, and you've got a unique gift that's fitting for any occasion. Perfect for lighting cozy outdoor areas or packing for camping, these bottle-cap candles burn for about an hour before running out of wick.
Read on for the directions
What You'll Need:
Bottle caps
Candle wicks
Scissors
Tape
Ends of candles
Small saucepan
Small metal or glass bowl
Ladle
Sheet pan
Aluminum foil
Directions:
Gather the bottle caps and cut the wicks to two-inch lengths. Use the ends of candles for making the minicandles, or pick up wax at your local craft store.
Heat the wax in a double boiler by filling a small saucepan with water and then placing a small metal or glass bowl over the top and bringing the water to a simmer. Place the ends of candles in the bowl until the wax melts. You can even add crayon shavings to add a pop of color to the wax.
Bend the ends of the candle wicks, and use a small piece of tape to hold each in place at the base of the bottle cap, trying to center the wick in each cap.
Cover a sheet pan with aluminum foil, and arrange the caps next to each other. Once the wax has melted, use a ladle and gently pour the wax into the caps until they're full. Cool for an hour, trim the wicks if needed, and enjoy!