DIY Coffee Filter Roses
Stop and Smell the DIY Coffee Filter Roses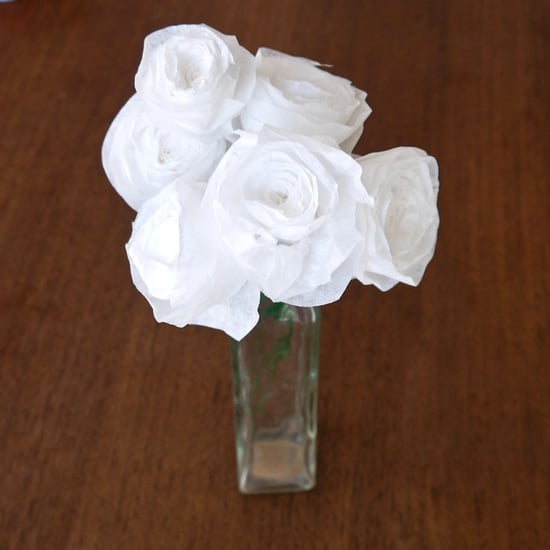 The next time you're tempted to toss down extra cash on a bouquet of roses, try making your own instead. The flowers cost just about nothing to make and come together with the help of a coffee filter. Extra plus? These roses will never wilt. Before you know it, you'll have enough to group together and display in a cute vase to brighten any corner.
Click here for the directions.
What You'll Need:
Coffee filters
Scissors
Hot glue
Floral wire
Directions:
Start by placing a coffee filter flat on your work space and cutting into the outside edge of the filter, working toward the center, creating a spiral cut. To create really nice roses, try to keep the cut around one-inch thick.
Now starting at the outside edge, start rolling together the coffee filter rose until reaching the center. Then gently loosen and open the flower.
Secure the rose at the base with a drop of hot glue, and then attach a length of floral wire to the back with another drop of hot glue.
Your coffee filter rose is finished! Make a collection, and pop in a vase or use single flowers for adorning wrapped gifts, twist through an empty button hole, or wrap around the handle of your favorite bag.